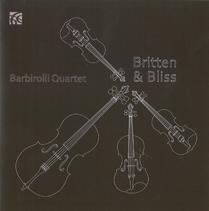 The Strad Issue: January 2012
Description: A welcome airing for a Bliss quartet, though couplings are less convincing
Musicians: Barbirolli Quartet
Composer: Bliss, Delius, Purcell, Britten
It is strange that Arthur Bliss's two string quartets are so seldom performed, since the Second in particular is a highly charged and dramatic four-movement score that bursts forth with considerable vigour. It ideally suits the Barbirolli Quartet, a much-acclaimed young British ensemble that bristles with energy and technical brilliance. The players' account of the scherzo dashes around the instruments with enviable precision before relaxing nicely into the following slow movement. They are equally persuasive in capturing the vastly changing moods of the finale, and the whole performance stands favourable comparison with the Delmé Quartet (Hyperion).
The Barbirolli enters a much more competitive world with the Britten quartet, with a catalogue already including highly recommended recordings from the Belcea, Brodsky and Maggini quartets. I like the Barbirolli's mysterious opening, yet the movement would benefit from some of the more intuitive dynamic shading of the Maggini (Naxos). That comment could apply to all three movements, indeed, and while the Barbirolli's playing is full of drive and spontaneity with highly impressive, colourful brush strokes, it is a little short on subtle hues.
The slow movement from Delius's Late Swallows reveals intonation that is not perfectly centred, and Britten's arrangement of Purcell's Chacony adds very little. A resonant recording that still retains clarity.
DAVID DENTON