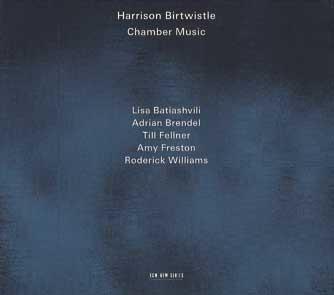 The Strad Issue: January 2014
Description: Commanding performances of understated music
Musicians: Lisa Batiashvili (violin) Adrian Brendel (cello) Amy Freston (soprano) Roderick Williams (baritone) Till Fellner (piano)
Composer: Birtwistle
Lyrical, sensitive, restrained: they're hardly adjectives you'd use to describe much of Harrison Birtwistle's uncompromising output, but they ably sum up the recent chamber works on this remarkable new disc, given beautifully nuanced performances by a starry line-up of soloists. Cellist Adrian Brendel is the hardest-working, appearing on every track, and although he can appear a little in the background in Birtwistle's thoughtful Piano Trio of 2011, he comes into his own in the astonishing Settings of Lorine Niedecker (1998–2000) – aphoristic, enigmatic songs for voice (here the expressive soprano Amy Freston) and cello. Brendel makes sure that every one of Birtwistle's scattering of notes has a story to tell, subtly adapting his tone, vibrato or attack to respond to the voice, and never sounding like a mere accompanist. He's exceptionally sensitive, too, in the serious-minded Bogenstrich (2009), which mixes Rilke settings (sung gracefully by baritone Roderick Williams) with athletic commentaries for cello and piano.
Lisa Batiashvili makes up for Brendel's reticence in the Piano Trio with her commandingly assertive performance, bright and lithe, but the disc's true star is pianist Till Fellner, whose breathtakingly balanced, sensitive playing throughout the recording seems at one with Birtwistle's rather understated, considered aesthetic. The warm, generous, close recorded sound only enhances the disc's highly expressive performances.
David Kettle