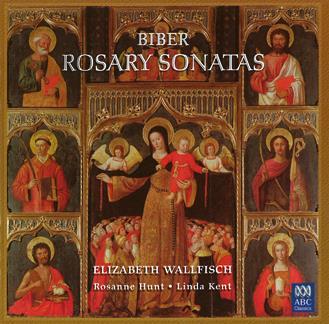 The Strad Issue: January 2009
Musicians: Elizabeth Wallfisch (violin) Rosanne Hunt (cello) Linda Kent (organ/harpsichord)
Composer: Biber
Elizabeth Wallfisch offers intelligent, stylish and expressive accounts of Biber's extra-musically inspired sonatas. Her playing is characterised by easy virtuosity, tonal sweetness and subtle shading, and the music's free-spirited spontaneity is enhanced by her creative approach. Her use of three different violins assists her in overcoming most of the tuning problems that can result from Biber's various scordatura requirements, but she opts for a relatively small accompanying instrumentarium rather than the wide and colourful range of continuo instruments exploited by, for example, Monica Huggett (Gaudeamus).
Tempos are generally apt – many are considerably faster than those of Wallfisch's main competitors – but she might perhaps have made more of the symbolism behind Biber's inventive music. Sonatas nos.7 and 9, for example, though neatly executed, sound largely out of character. However, Wallfisch is expressively reflective in the Praeludium of no.1 and she dispatches most of the stylised dances with appropriate buoyancy and rhythmic accent (particularly those in nos.5 and 13). Among my principal highlights are her accounts of Sonatas nos.4, 11, 13 and 14, the varied aria of no.1, and the sharp contrasts in the Presto of no.2. The Intrada of no.12, though, sounds too rumbustious.
Wallfisch actually breaks the nine-minute barrier for the final unaccompanied Passacaglia, which she performs with customary intelligence, commitment and virtuosity. Rosanne Hunt and Linda Kent provide solid and assured continuo support. The recorded sound is suitably resonant and mostly well balanced.
ROBIN STOWELL