Technical flair to the fore in Baroque pyrotechnics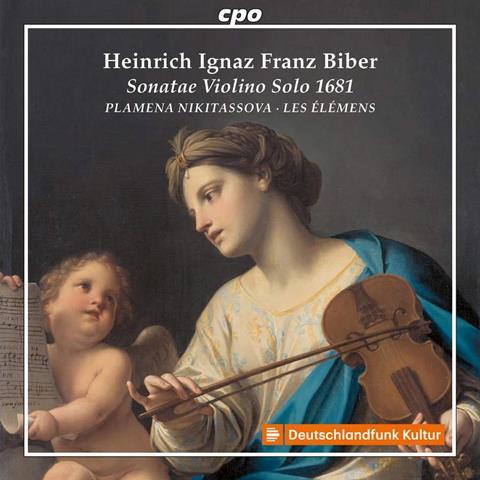 The Strad Issue: October 2022
Description: Technical flair to the fore in Baroque pyrotechnics
Musicians: Plamena Nikitassova (violin) Les Élémens
Works: Biber: Sonatae Violino Solo 1681. Vilsmayr: Violin Sonata in E flat major
Catalogue number: CPO 555 481–2 (2 CDs)
Charles Burney described Biber's 'solos' as 'the most difficult and fanciful' of their time – and with good reason, because they set new benchmarks in both artistic creativity and daring virtuosity. Plamena Nikitassova interprets the eight sonatas of 1681 with intelligence, style and virtuosity, demonstrating imaginative sensibility to their dramatic musical language through dynamic contrasts and subtleties of articulation and timing.
She relishes the conversational texture indicated by Biber's two-stave presentation of the solo part in no.8. and takes the prescribed scordaturas in nos.4 and 6 in her stride, swapping her 1659 Jacob Stainer instrument for a c.1730 Sebastian Kloz in no.4. Curiously, though, all these performances appear to involve scordatura, as the clean, vibrant and resonant recordings sound approximately a semitone higher than Biber's text.
Nikitassova shapes phrases flexibly to convey musical meaning, as in these works' quasi-improvisatory toccata sections, and tastefully adds extempore ornamentation throughout. She gives a compelling sense of architecture to individual movements, notably the extended chaconnes that are at the core of nos.1, 3, 5 and 7, the free-flowing passacaglia of no.6, the numerous variation movements and stylised dances such as the charming gigue of no.4 and gavotte of no.6. The menuett of no.8, however, seems uncomfortably fast.
The continuo quartet of Les Élémens accompanies sensitively, imaginatively and with a fair amount of artistic licence throughout, often adding to Biber's score introductory preambles and sectional variants as appropriate. The collection's makeweight, a world-premiere recording of a sonata by Vilsmayr, admirably illustrates the senior composer's powerful influence on his pupil.
ROBIN STOWELL