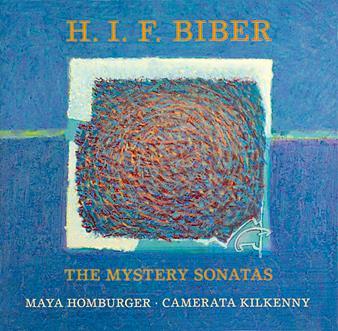 The Strad Issue: January 2007
Musicians: Maya Homburger (violin) Camerata Kilkenny
Composer: Biber
Biber's Mystery Sonatas divide into three cycles of five according to mood and extra-musical inspiration, vividly portraying events in Christ's life. Maya Homburger offers stylish and imaginative accounts, demonstrating commendable technical bravura and eloquent command of Biber's uniquely dramatic musical language and exploiting to excellent effect the exotic sonorities of his scordature. She is sympathetically supported by a flexible continuo group, which accompanies with unanimity of interpretation and ensemble and offers striking variety of texture and colour. Particularly unusual is the inclusion of a double bass, which is especially effective in the Seventh Sonata's Sarabanda with variations.
Highlights of the five Joyful Mysteries include the intimate repose of the final Adagio of no.3 and the sharply contrasted Ciacona of no.4. The Sorrowful Mysteries focus on episodes in the Passion, vividly captured in the lamenting Sixth Sonata, the grief-stricken utterances in the Praeludium of no.10 and the ensuing binary aria with variations. Homburger realises the two-voiced texture of the Adagio most thoughtfully, evokes imaginatively the earthquake that followed Christ's death and conveys most sensitively the unearthly sonority of no.11 ('The Resurrection'), its fanfares and triumphant version of the Easter plainsong hymn made all the more arresting by the extreme scordatura employed. Remarkable, too, are the trumpet imitations in no.12, representing Christ's ascent into heaven. The emotions of the last two sonatas range from the fervent joy of no.14's Aria with variations to the serene Sarabande of no.15. The beautifully executed final Passacaglia bears ample testimony to the clarity, warmth and ideal resonance of the recording.
ROBIN STOWELL