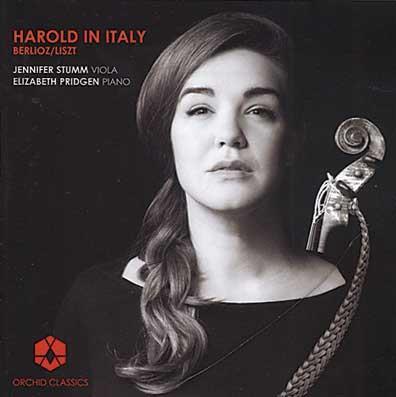 The Strad Issue: November 2014
Description: An unusual programme that gives a new context for Berlioz's viola-led symphony
Musicians: Jennifer Stumm (viola) Elizabeth Pridgen (piano)
Composer: Berlioz, Liszt
Catalogue Number: Orchid Classics ORC 100044
In her engaging booklet notes, Jennifer Stumm makes an eloquent case both for Berlioz's Byronic epic Harold in Italy as a vehicle ideally suited to the viola's unique tonal qualities and for Liszt's transcription of it for viola and piano. Intriguingly, she and pianist Elizabeth Pridgen interpolate some compositions of Liszt's as 'interludes' between the movements of the larger piece, an enterprise that sounds more promising in Stumm's enthusiastic advocacy than in the actual realisation: Harold is a symphonic poem that tells a story, and needs to do it without interruption.
But if you can programme your CD player to put the piece back together, you will hear a monumental, well-paced performance from both players. The piano part is the devil's own job to play, but Pridgen passes with flying colours. Stumm steps into Harold's role convincingly, variously shaping the character's signature tune according to the situation. She coaxes myriad shades from her Maggini contralto viola, each one of which is faithfully caught by the excellent if rather close recording.
The Romance oubliée, Liszt's one original piece for viola and piano, receives an appropriately lyrical rendering, as does the (literal) transcription of the famous song Oh quand je dors. The CD is framed by two of Liszt's forward-looking late pieces in Stumm's own idiomatic arrangements, which use the viola's unaccompanied voice to haunting effect.
Carlos MarÁa Solare