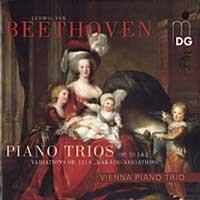 The Strad Issue: January 2014
Description: Lively accounts of Beethoven's multifaceted music for piano trio
Musicians: Vienna Piano Trio
Composer: Beethoven
The impact and vivacity that the Vienna Piano Trio brings to the opening bars of the D major Trio set the scene for a performance characterised by the urgency of its tempo – the first movement at times sounds distinctly breathless. Even the 'Ghost' second movement presses forward, its chilling effect brought by the starkness of the senza vibrato string tone and Beethoven's use of the hollow deep bass piano register. Predictably the finale is taken just about as fast as busy fingers permit, its concluding bars full of joy.
Somewhat the Cinderella of the two scores, the E flat major Trio thrives on the expressive licence the players liberally apply. They are relaxed in the central Allegrettos, but overall their account is playful, elegant and beautifully shaded, and only when compared with my benchmark recording from the Florestan Trio (Hyperion) does it become apparent that the mood changes in the outer movements could be more effectively stitched together.
The trio completes a generously filled disc with the ten variations on a theme by Wenzel Müller – the vivacious and joyful approach here underlines the probability that it was from the composer's youthful years.
Balance between instruments is ideal, and the recording engineers play their part in capturing a warm and pleasing acoustic.


David Denton