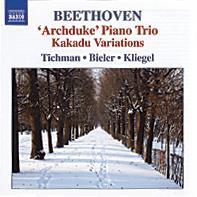 The Strad Issue: January 2013
Description: A good-natured 'Archduke' that highlights the piece's singing qualities
Musicians: Ida Bieler (violin) Maria Kliegel (cello) Nina Tichman (piano)
Composer: Beethoven
It is a never-ending source of wonder how distinguished musicians can produce such fundamentally different accounts of the same score, while keeping within well-defined interpretative parameters. In the 'Archduke' Trio, for example, Zukerman–Du Pré–Barenboim (EMI) emphasise furrowed-brow spontaneity and brilliance, while Szeryng–Fournier–Kempff (DG) are all sleight-of-hand, aristocratic grace. Ida Bieler, Maria Kliegel and Nina Tichman are quite different again. Captured in a glowing, resonant acoustic, they emphasise the music's singing, cantabile qualities, gently cushioning Beethoven's sforzando body blows to create a Schubertian world of enraptured poetics.
If the general tendency in this epic work is to emphasise the composer's subversive tendencies and pseudo-orchestral gesturing, this team presents Beethoven as a Classical thinker, loosening expressive and temporal parameters with a velvet glove rather than railing at tradition in his hobnail boots. This approach reaches a climax in a finale that is all good-natured humour, bonhomie and contentment.
If some may find the Bieler–Kliegel–Tichman trio's relative lack of physical thrust in the 'Archduke' almost too much of a good thing, the enchanting E flat major Trio WoO38 has rarely sounded so beguiling, nor the 'Kakadu' Variations so deeply affecting. In the wrong hands the variations can seem interminable, but here they feel not a note too long.


JULIAN HAYLOCK