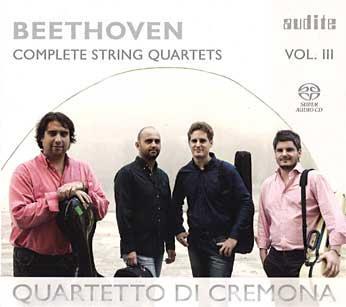 The Strad Issue: January 2014
Description: Beethoven with drive that barely lets up
Musicians: Cremona Quartet
Composer: Beethoven
There's no shortage of bite or energy in the third instalment of the Cremona Quartet's survey of Beethoven's string quartets. The instruments speak with crisp articulation and the players don't hold back in terms of vigour. This often makes for thrilling listening. The driving rhythm and sharp off-beat sforzandos in the first-movement Allegro of op.18 no.4 are bracing, and there's plenty of agility as well as heft.
Perhaps the greatest casualty of the Quartet's approach, though, is the Grosse Fuge. In this assertive performance the texture quickly becomes saturated, each player coming out with all guns blazing. The counterpoint suffers along with a sense of forward direction. The full-on crossfire may be exhilarating, but you don't want to witness it for long: the first Meno mosso e moderato comes as a blessed relief.
The players regain some of their composure in the D major Quartet op.59 no.1. The tone is again on the clean and lean side, but there's no doubting the impeccable balance and ensemble, nor their poise in the playful Allegretto. The recorded sound is a willing accessory to the punchy playing. A thought-provoking release, but not one for the faint-hearted.


Edward Bhesania