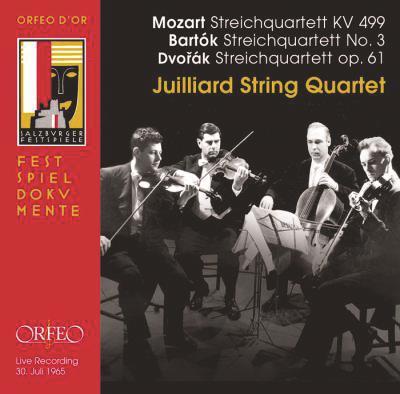 The Strad Issue: February 2017
Description: Salzburg recordings from 1965 in slightly compromised sound
Musicians: Juilliard Quartet
Composer: Bartók, Dvorák, Mozart
Catalogue number: ORFEO C927 161B
Live Juilliard performances can be illuminating, but here the tape imparts a tremulous quality to the strings. In a purposeful Allegretto to Mozart's 'Hoffmeister', tangy viola tone comes through strongly; violin tone is rather white. The Minuet is stodgy and too slow at 3:35– a contemporaneous Smetana Quartet account knocks 29 seconds off, to good effect (BBC Legends BBCL 4137-2). The Juilliard's Adagio is eloquent, the Allegro sprightly.
Violist Raphael Hillyer broke his A string during the Bartók and had to appeal for a spare. One reviewer thought the second attempt less intense but it sounds fine, with terrifically precise filigree playing and ensemble. Bartók's effects are well calculated, with good pizzicato and an overall impression of power.
I do not recall hearing the Juilliard in this Dvorák before. It is a very fidgety reading – various Czech groups, most recently the Zemlinsky Quartet, have played it with less fuss – but there are nice touches and colours along the way, notably from viola and cello.
The cover photo has the quartet seated in the 19th-century way, the violins facing each other, and the second violin does not look like Robert Koff or Isidore Cohen; but American friends assure me it is Koff, sans spectacles.
Tully Potter