Masterful performances of Martinů from a violinist on splendid form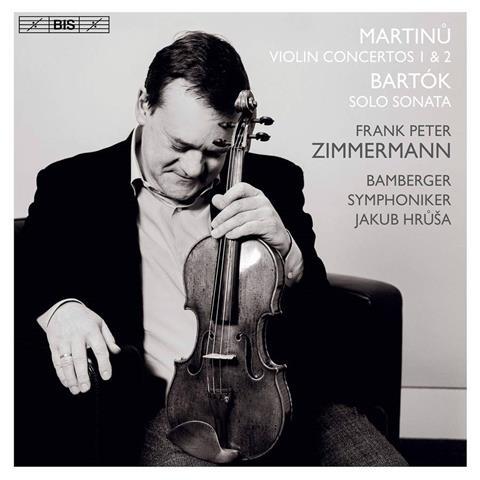 THE STRAD RECOMMENDS
The Strad Issue: February 2021
Description: Masterful performances of Martinů from a violinist on splendid form
Musicians: Frank Peter Zimmermann (violin) Bamberg Symphony Orchestra/Jakub Hrůša
Works: Martinů: Violin concertos: no.1 (1932–33), no.2 (1943). Bartók: Sonata for solo violin
Catalogue number: BIS BIS-2457 (SACD)
Frank Peter Zimmermann, the German violinist I most like, is in terrific form on this superb disc, playing Martinů's concertos as if he has known them all his life. The Second, for Mischa Elman, comes from Martinů's later, more lyrical period and is gratefully written for the violin. The sound is outstanding and the contrasting tempos in the opening movement seem just right. Zimmermann's rhythm is exemplary, as also in the central movement, where busier passages are kept interesting and he thrives on the scraps of melody Martinů tosses about. He plays the finale with delightful virtuosity, taking rhythmic subtleties in his stride. The orchestra under Hrůša blazes in the substantial tuttis.
The First Concerto was for Samuel Dushkin who fussed endlessly, stopped other people playing it, but never achieved a premiere. The work was lost until 1968. It is typical of the neo-Classical Martinů, with perky outer movements and an appealing central Andante. Zimmermann is its master – turn up the volume slightly.
He seems to approach the Bartók from a Bachian standpoint, regarding it quite straightforwardly. For me, Barnabás Kelemen's is the interpretation of our time, but according to his own lights Zimmermann plays very well. Recommended with enthusiasm.
TULLY POTTER