Spirited arrangements from an innovative and idiomatic cellist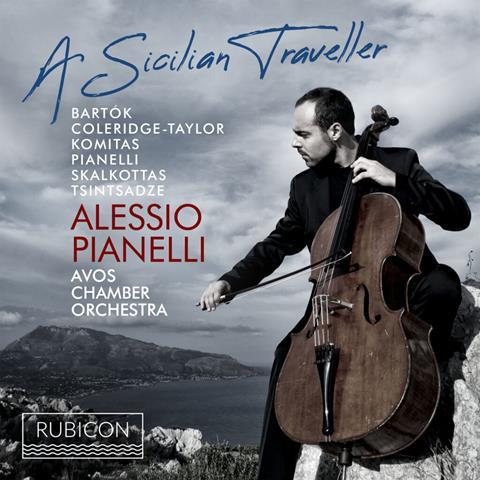 The Strad Issue: June 2021
Description: Spirited arrangements from an innovative and idiomatic cellist
Musicians: Alessio Pianelli (cello) Avos Chamber Orchestra
Works: Tsintsadze: Seven Miniatures on Georgian Folk Themes. Komitas: Armenian Folk Songs and Dances. Coleridge-Taylor: 24 Negro Melodies op.59 nos.10 and 20. Bartók: Romanian Folk Dances. Skalkottas: Greek Dances. Pianelli: Variations on a Sicilian Folk Theme
Catalogue number: RUBICON CLASSICS RCD 1051
The island of Sicily has hosted many nationalities over the centuries, a melting pot of cultures admirably reflected in this enterprising release. Cellist Alessio Pianelli not only plays with élan and virtuosity, but has also made idiomatic arrangements of all the pieces. For example, the Sulkhan Tsintsadze Miniatures were originally written for string quartet. Yet how well they make the transition to cello and string orchestra – so much so that it would be great to see them published in this version. They cover a varied range of timbre and characters: Gandagan sports oscillating metres with false harmonics for colour, while Suliko has double-stops and pizzicato backing; Shepherd's Dance is characterised by spirited delivery of swirling rhythmic metres that keeps you on the edge of your seat.
Similar tonal melodic and rhythmic elements feature in Komitas's Armenian Folk Dances and Songs, whereas Coleridge-Taylor's two spiritual melodies, Deep River and Pilgrim's Song, celebrate the essence of suffering with noble simplicity. Pianelli allows his nuanced playing full scope in depicting these spirituals. In contrast, his own Variations on a Sicilian Folk Theme are witty, with teasingly brief references to Mozart's The Magic Flute and Elgar's Cello Concerto.
A more pungent musical language defines both the Bartók and Skalkottas. The latter are excellent arrangements from his monumental 36 Greek Dances for Orchestra. Perhaps, though, the towering composition here is the well-loved Romanian Folk Dances by Bartók with its perfect assimilation of indigenous folk idioms, vividly projected in this fine recording.
JOANNE TALBOT