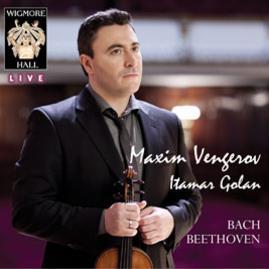 The Strad Issue: January 2013
Description: Recorded sound mars a record of Vengerov's return to the concert stage
Musicians: Maxim Vengerov (violin) Itamar Golan (piano)
Composer: Bach, Beethoven, Wieniawski, Brahms (transc. Joachim)
From the opening bars of this Wigmore Hall concert – Maxim Vengerov's comeback in April 2012 ­– ears have to be adjusted to a recorded sound that brings an acidic edge to the top end of the violinist's 1727 Stradivari. It's regrettable, for the technical perfection he displays in his performance of Bach's Second Partita surpasses most of those set down in the studio. Intonation is fair enough considering the work's cruel demands, and the structural shaping is as persuasive as any of the recorded historically informed performances. His three- and four-note chords also have power, but avoid that sense of being hacked out of the instrument.
The piano tone in Beethoven's 'Kreutzer' Sonata is also unsatisfactory and the performance in general is rushed: the fast sections of the first movement dash away to an extent that it becomes so breathless as to border on untidiness. The variations of the central Andante often sound restless, too, and we return to undue urgency in the final Rondo.
Applause is omitted, though it drew two encores, which Vengerov uses to display his dashing virtuosity, though, as in the Sonata, intonation is not always beyond question. In Itamar Golan he has a most responsive partner.
DAVID DENTON