The violinist will perform the Mendelssohn Violin Concerto at a Royal Festival Hall fundraising concert on 15 January conducted by Edward Gardner. Here she talks to The Strad about a cause close to her heart and a concerto which has become a constant companion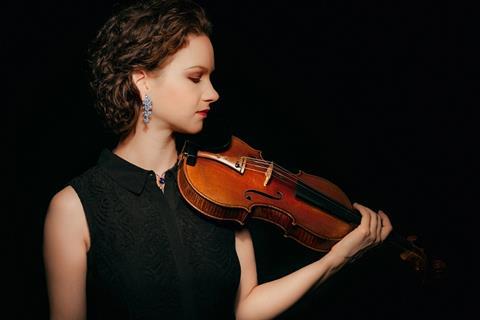 On 15 January, a fundraising concert for the Refugee Council put on by members of the London Philharmonic Orchestra and friends conducted by Edward Gardner will take place at London's Royal Festival Hall, featuring Michael Tippett's A Child of our Time and Hilary Hahn in Mendelssohn's Violin Concerto. The Strad got in touch to ask the illustrious American violinist about her involvement:
Hilary Hahn: Tamzin Aitken [a member of the LPO's concert management team and coproducer of the event] invited me to participate. I was glad for the opportunity to get involved. I I have recently become even more aware of refugee organisations' work, including the Refugee Council's. From my early twenties, though, I've heard stories of the complex needs of refugees from a few friends who are involved with refugees and people in shifting circumstances.
The Strad: Do you see it as a responsibility for an artist with a prominent platform to engage with world events?
HH: I don't presume to know what a person of any profile should do in their life. Many people choose to make a difference privately, even if they are public figures. Some people are wading through their own struggles so are unable to reach out.
Sometimes it's easier to become numb to the circumstances of strangers in dire straits.
Artists often seek to communicate at a core emotional level with other people, many of them strangers, through their work. I believe that those qualities that we strive for in the arts are exactly the ones that can be put towards helping others. In my ideal world, if someone is capable of reaching out positively to someone else, they would do it without question.
Sometimes it's easier to become numb to the circumstances of strangers in dire straits. The pain of all of the people suffering in the world would crush even the strongest individual. However, if anyone who thinks of people as data were to suddenly become a refugee struggling from day to day, the harsh reality would strike very quickly. And you know what? No one is immune to tragedy. Any one of us could become displaced. Any one of us could suffer inordinately. And any one of us in such circumstances would wish that someone would help us and our loved ones. So, if one can do something, I believe it's important to try.
TS: Was there any particular reason you chose the Mendelssohn concerto?
HH: Through discussion, we found a piece that we believe speaks to human emotion, that will communicate to the listeners and give them the chance to reflect and feel. The Mendelssohn contains beauty, joy, tenderness, drama, and uncertainty, among many other experiences.
TS: Is it difficult for you to play a piece you must have performed so many times before? How does it stay fresh? Or is it more about finding new things in it as you deepen your experience of it?
HH: It's not difficult to revisit a piece I know so well that I feel like it runs in my blood. Often, the more I play a work, the more I appreciate it. I always find something new in it, to add to the musical foundation I've built over the years, because that's what I love about the artistic process. My colleagues also introduce me to new possibilities, even when they don't realise it.
Fior more information on the concert and tickets, click here