For the German violinist, op.30 no.2 evokes a cascade of memories as disparate as freshly baked cookies, Wild West writer Karl May, and a sense of security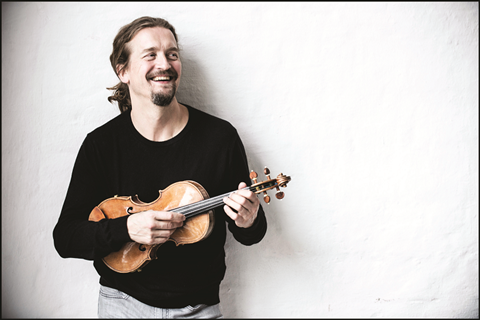 This article appears inThe Strad's April 2018 issue
If you want a piece that you can play with total abandon, to transport you out of your body, I'd recommend Beethoven's Violin Sonata op.30 no.2. It's one of the few pieces that encompasses the Shakespearean ideal of completeness: the first movement requires you to be so angry you feel like you're shouting at people; the second embodies a feeling of sweetness and redemption; whereas the Scherzo third movement is a joke, something that needs you to play with utter silliness. The extremes of high and low emotion coexist in this sonata, and it's a piece that I still regularly perform in concert, although it has a much more personal resonance for me than that.
I can't remember the first time I heard the sonata: it was almost certainly when I was around eleven and sightreading all the sonatas we had in the house, along with my brother at the piano. I don't remember this piece standing out at the time, but we weren't taking it all that seriously. The first time I remember studying it was when I was twelve, and having lessons with an elderly lady named Evelyn Distler. I arrived at one lesson when she had the first page of op.30 no.2 open on the music stand, and she set me a challenge: if I could play the runs on this page by next week, she'd buy me a Wild West book by my favourite author, Karl May. I think she knew this would appeal to my competitive nature, and sure enough, next week I got my book! I don't know if she thought I'd played the runs perfectly – probably not – but I felt I'd mastered some awkward semiquavers and that was encouraging.
'The extremes of high and low emotion coexist in this sonata'
The other reason this sonata stands out for me personally is that it evokes an emotional response in me that I can't explain. When I play the Adagio cantabile, it triggers a memory of my younger days, when I was living at home – a feeling of pure bliss, when I enjoyed the cookies my mother made, and a sense of belonging and security. And the feeling continues into the Scherzo, which produces a kind of deep, impulsive joy within me. It's similar to the famous moment in Proust's À la recherche du temps perdu, when the taste of a madeleine cake produces a cascade of memories for the narrator. I can't analyse it because it's beyond my grasp, but I do know it happens almost every time I play it – it's a reliable trigger for those feelings.
I don't think that this emotional connection makes it easier for me to play the sonata; it's just an added bonus. In fact it's very easy to keep the piece fresh when I'm performing it on stage: if anything, it becomes fresher every time because my confidence and freedom grow with each performance. I also think it's an excellent piece for students to perform, especially if they've been hardened by playing too many Paganini Caprices! To play it properly you need to be able to skip out of your body and soul – safety can't be a consideration in this music. You also need to develop techniques that aren't in the study guides, and to find things in your bowing that are not standard. It's an emotional and technical challenge.
I think that practising it as a student with my main tutor, Uwe-Martin Haiberg, gave me a good and strong skeleton of an interpretation – one I've put more and more flesh on over the course of the next three decades. My job is the same every night: to make everyone in the audience dive fully into the piece and my interpretation, as it's likely the first and only time they'll hear it.
This article appears inThe Strad's April 2018 issue
INTERVIEW BY CHRISTIAN LLOYD
Watch: As far as Christian Tetzlaff is concerned, his Stefan-Peter Greiner violin isn't as good as a Guarneri – it's better