Stradpet titanium tailpiece; Cello Gard foldable cello stand; Musafia case caddy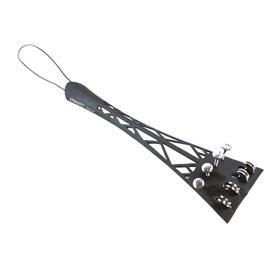 Sting in the tail
Titanium continues its rise as a material for instrument fittings
An acoustically impressive substance with the highest strength-to-weight ratio of any pure metal, titanium has recently become a favourite material for instrument fittings. 'It's widely recognised as an excellent conductor – for both the wide spectrum of frequencies and the speed at which they are able to pass through it,' says Liang Li of Stradpet, a Beijing-based fittings manufacturer established in 1997. Stradpet's range of titanium products includes fine tuners, chin rest screws, tailguts, buttons and endpins, and has recently been expanded to include tailpieces for violin and cello. 'The metal's superior sonic characteristics mean that tailpiece made from titanium can make a significant improvement to the quality of an instrument's sound,' Li continues. 'Very little acoustic energy is lost when it passes through titanium, and it continues to vibrate for longer than comparable alternatives.' Like most manufacturers working with titanium, Stradpet uses 'Grade 5' titanium alloy – 90 per cent titanium with 6 per cent alumnium and 4 per cent vanadium. Li claims the Grade 5 tailpieces are up to 45 per cent lighter than those made of ebony, but the minimal weight and high tensile strength that draw makers to this and other titanium alloys come at a cost.
Like carbon fibre, another light and durable substitute for more traditional materials, titanium is extremely hard and therefore difficult to mill – one of a number of factors that often pushes the price of titanium fittings well above those of their competitors. Stradpet's tailpieces, however, are made using a vacuum casting process, reducing the need for labour-intensive working of the metal and bringing down manufacturing time and costs. Once moulded, the metal is anodised to create a matt black coating designed to mimic the appearance of ebony. The violin and cello tailpieces measure 109mm and 236mm and weigh 11g and 55g respectively. They are compatible with fine tuners for loop- and ball-end strings, both of which Stradpet also manufacture in titanium.
Stradpet titanium tailpiece from $139 (violin) $359 (cello)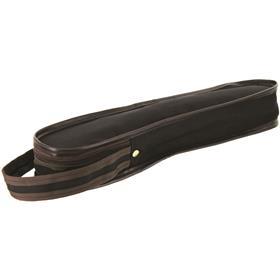 On safe ground
Designed to allow cellists to lay their instrument securely on its side, the Cello Gard uses two neoprene-covered supports to hold the instrument in place. Now available is a single-piece folding version, which can be packed away into the carry case provided for greater convenience when travelling.
Cello Gard foldable cello stand $29.95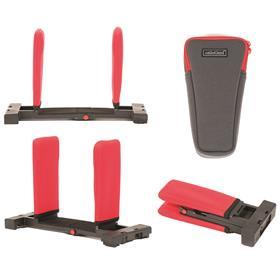 Excess baggage
For players looking to increase the carrying capacity of their case to include a music stand, for example, this pouch is designed to thread along its strap and sit on top of the main body. Black with a brown trim, the 'caddy' weighs just over 100g and measures 40 x 7.5 x 5cm.
Musafia case caddy$55