American String Quartet violist Daniel Avshalomov reaches Winona, Minnesota, and reflects on the challenges of Mendelssohn's Octet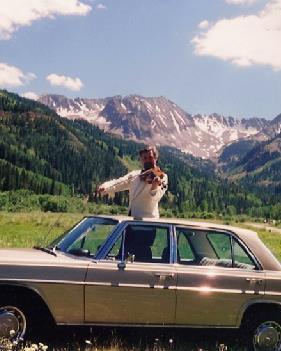 If you were a travel agent working on an itinerary that included Crested Butte, Colorado, and Aspen, Colorado, and also Beijing, China, an order would suggest itself. But if (when no one was looking) you hauled off and joined a string quartet, why wouldn't you go from Crested Butte to Aspen by way of China? In fact, you might even throw in Winona, Minnesota, along the way.
Winona is a river town (on the Mississippi, but more on colonial geography anon) about 120 miles south-east of Minneapolis. It boasts a Shakespeare festival, several good restaurants, a standout food store, a museum with some very beautiful canoes, and (for the last seven years), the Minnesota Beethoven Festival, where the American String Quartet has played before and returned with pleasure this July.
We're Serious Musicians, of course, and to prove it we've taken late Beethoven, Schoenberg, Berg, the Schubert Quartet in G, modern American works, and even Bruckner to summer festivals over the years. But when most people playing word-association football hear the words 'summer festival programming', they're more likely to respond with 'Mendelssohn!' than with any of the previous names.
And so it was this summer, when the director of the Minnesota Beethoven Festival asked us to include Mendelssohn's matchless Octet, op.20. Our colleagues were to be the members of the Ariel Quartet, and because we knew them, liked them, and had done the Octet with them before, we agreed immediately. Besides, they already knew the Three Rules for a Successful Octet: listen to Peter, watch Laurie, and take the exposition repeat.
One thing about that Octet, though: although it's sure-fire, the difference between a warm hearth and a house on fire comes from personnel. You can assemble eight of the greatest soloists alive, or even eight outstanding individual chamber musicians, and you won't get the cohesion, flexibility and spontaneity that comes when two established string quartets join forces. I know how elitist that sounds, but we are talking about chamber music after all.
The composer himself had some very particular ideas about performance, too – seating, to begin with. He didn't want the two quartets facing off – that was Spohr's plan for his two Double Quartets – but Mendelssohn didn't ask one quartet to accompany the other either: he really meant it as an octet. Thus, four violins side by side, two cellists and two violists ditto. And his much-quoted admonition concerning dynamics is worthy, if confusing:
'Pianos and fortes must be strictly observed and more strongly emphasised than is usual in pieces of this character.'
And so we always endeavour to do so, but what are 'pieces of this character'? There aren't any; the 16-year-old's masterpiece scared many a composer away from the medium, and the works of those who dared are rarely heard. Raff, Gade, Balakirev, Glière, Bruch, Enescu, Shostakovich – put any of these with the Mendelssohn on an Oktett-Abend and draw your own conclusions.
A more charming quote (about the scherzo) comes to us from his sister Fanny:
'To me alone he told his idea: the whole piece is to be played staccato and pianissimo, the tremolandos coming in now and then, the trills passing away with the quickness of lightning; everything new and strange, and at the same time most insinuating and pleasing, one feels so near the world of spirits, carried away in the air, half inclined to snatch up a broomstick and follow the aerial procession. At the end the first violin takes a flight with feather-like lightness, and – all has vanished.'
And then all ears are on the second cello. There is a story of a group sitting in such a steep V shape that the first cellist couldn't see the second. The latter began the last movement but the former failed to enter. In the shocked halt that followed, the second cellist asked: 'Didn't you hear me playing?' And the first answered: 'I though you were moving your chair.' Felix didn't cover that in his instructions.
Photo: Bill Grubb