Violinists Zach De Pue and Nick Kendall, and double bassist Ranaan Meyer talk about their path to success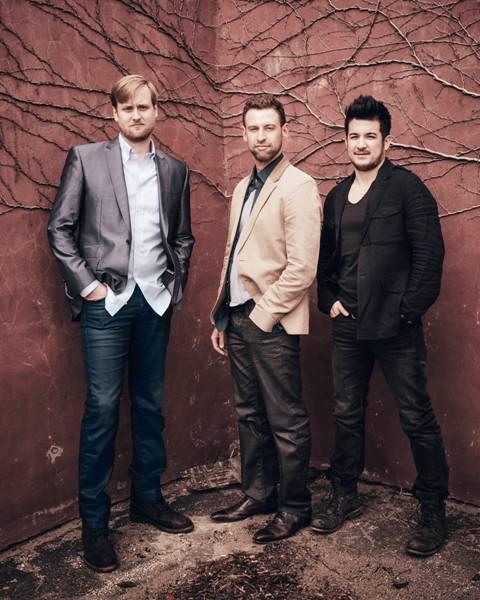 Experiment with different styles and genresZach: We believe it's important for young classical musicians today not only to have an awareness of other genres, but also to experience playing in other styles. Every young musician should definitely explore. They may find a voice in a different style that they didn't even know existed inside them. Time for Three really strives to collaborate with and build bridges between artists from all walks of life and from all musical styles, because they are all valid forms of expression.
Give your all to the music – no matter whether it's Beethoven or Daft Punk
Nick: We make sure every phrase and every melody that we play ? whether an arrangement or original composition ? has the same intention and energy that we would give to a Beethoven or Shostakovich string quartet. It's all just a way to express yourself.
Ranaan: Our philosophy is that it's always about the music and making sure the emotional content and the stories are getting through to the audience.
Use social media to explain your art
Nick: We are part of the new generation of artists who have grown up in the age of the internet and who realise how it can be used as a tool to share and communicate. A lot of the time Tf3 uses social media to engage listeners who may have a preconception of what two violins and a double bass sound like. For us, it's so much more than the instruments that the three of us hold. It's about the energy and the communication and the bond that three guys, who happen to play these instruments, have. For the world at large, that bond is a very recognisable thing. So social media has been a really helpful tool to show there's much more to us than these instruments that are recognised as 'classical'.
There's more to communication than self-promotion
Zach: Obviously as a band you need to get your name out there, but we also wanted our first music video, Stronger, to carry a greater meaning. So we came up with a story about bullying to represent every artist's struggle while they are growing up with not quite fitting into their own social setting. Carrying a double bass into junior high school, or carrying a violin across the baseball field means you are not necessarily the coolest kid. But we wanted to encourage students and musicians to stick with it, and to let them know that they would come out the other end.
Turn negative experiences to your advantage
Nick: When we were denied access to a US airways flight with our instruments, we had been travelling for many hours. The plane was full of passengers, the crew were packing up to leave, the jet engines were starting and we were the only two on the tarmac, having been ejected by the captain. I knew when Zach pulled out his violin and started to play Bach that this was a moment that needed to be videoed. As soon as we did, I couldn't wait to post it online. Within half an hour we already had 5,000 views on the post.
Think about what your audience wants to hear
Nick: When building a career independently, the most important thing is finding a balance between how you want to express yourself as an artist with the business of selling records. Marketing yourself is such a different skill to mastering your instrument in the practice room. It's also a journey – sometimes you have to think about material that gets the attention of people, which then encourages them to go on a journey with you as an artist. Knowing how to navigate those waters is tough; it takes practice, conviction and careful thought.
Inspire the next generation
Ranaan: It's crucial to reach younger audiences. We have done over 1,000 educational outreaches. Our message is to empower young people to find their passion in life, as cliché as that sounds. We do what we love, touring the world and getting paid for it, and it's amazing. So we want to help the next generation find that too.
Time for Three's self-titled debut album on Universal Music Classics is out now.
Photo: LeAnn Meuller
Subscribe to The Strad or download our digital edition as part of a 30-day free trial. To purchase single issues click here.