The violinists, aged 18-28, are competing at the New Zealand contest for a top prize of NZ$40,000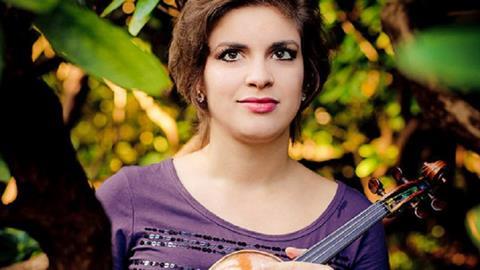 The 2017 Michael Hill International Violin Competition, taking place in New Zealand from 2 to 10 June, has named its three finalists.
The young violinists have been whittled down from 140 applicants, aged 18 to 28, by way of 16 quarter-finalists and six semi-finalists. They are competing for a top prize of NZ$40,000, a recording contract with the Atoll label, a performance tour across New Zealand and Australia, and a professional development programme. The top ranked player will also have the opportunity to perform on Sir Michael Hill's 1755 Guadagnini 'The Southern Star' on his or her Winner's Tour.
The three finalists are:
Benjamin Baker – New Zealand
Ioana Cristina Goicea (pictured) – Romania
Luke Hsu – USA
The three violinists will perform a concerto in the Grand Final held at Auckland Town Hall on 10 June with the Auckland Philharmonia Orchestra conducted by Giordano Bellincampi. Ioana Cristina Goicea will play Tchaikovsky, Benjamin Baker will play Brahms and Luke Hsu will play Sibelius.
This year's jury comprises USA's Pamela Frank, Ilya Gringolts from Russia/UK, South Korea's Dong-Suk Kang, Finland/NZ's Vesa-Matti Leppänen, Romania's Silvia Marvovici, Dene Olding from Australia and Krzysztof Wegrzyn of Poland/Germany.
The Michael Hill Competition takes place every two years in Queenstown and Auckland, and has helped to launch the careers of a number of leading violinists, including newly-appointed Concertmaster for New York's Metropolitan Opera, Nikki Chooi, who won in 2013. 2015's winner was Suyeon Kang from Australia.
Photo: Anne Hornemann