Chiara Enderle triumphs at Wigmore Hall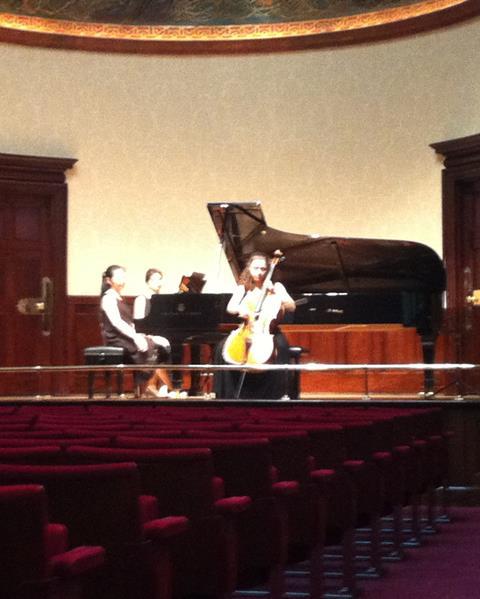 This year's Pierre Fournier Award has been won by 20-year-old Swiss cellist Chiara Enderle. Finals of the international competition were held at London's Wigmore Hall, the jury comprising cellists Ralph Kirshbaum, Moray Welsh, Melissa Phelps and Alice Neary, violinist György Pauk and pianist Ian Brown. The three other finalists were German Benedict Klöckner, Joris van den Berg from the Netherlands and Jonathan Dormand from the UK. They were selected from 30 entrants who were narrowed down to 16 for the semi-finals.
Enderle won the Witold Lutoslawski International Cello Competition in February and now studies in Berlin with Jens Peter Maintz. In the final she performed Boccherini's C major Sonata no.6, Penderecki's Capriccio per Siegfried Palm and the Franck Sonata in A major. With this award she receives a recital at Wigmore Hall and £750. The panel also awarded discretionary prizes of £750 to Dormand and £250 to the two other finalists.
The event was inaugurated in 1988 by Kirshbaum as a tribute to the French cellist, who died in 1986. Former winners include Gemma Rosefield, Richard Harwood and Gregor Horsch, and the last winner, in 2011, was Mikhail Nemtsov.
In awarding the prizes, Welsh compared the competition to the Wimbledon tennis contest, where it took 127 players to create one finalist, and said: 'The winner is the icing on the cake, but there wouldn't be any icing without the cake.' He continued: 'Everyone contributed to the standard and to the struggle to put someone at the top. These days everyone wants fame in five minutes, but to get anywhere in this competition you have to work like a Trojan.'
Sign up for our 30-day free trial of the digital edition of The Strad.