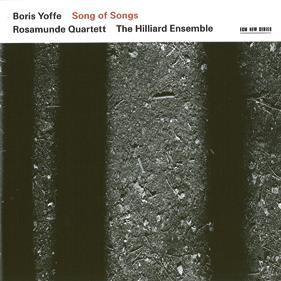 The Strad Issue: January 2012
Description: Exquisite performances of a sequence of miniatures that unfortunately quickly palls
Musicians: Rosamunde Quartet, Hilliard Ensemble
Composer: Yoffe
Russian-born composer Boris Yoffe's Book of Quartets is a remarkable project – an ongoing series of short, often single-page pieces for string quartet that he reputedly composes almost daily as a kind of musical diary. This ambitious disc mixes selections from the Book's aphoristic offerings with equally brief pieces from a related project, Song of Songs, which sets fragments of the Biblical text for vocal and string quartets.
The performances are exact, precise and highly persuasive. The Rosamunde Quartet's considered playing is engaging and full of warmth, with singing melodic arches and a rich vibrato, given added glow by the recording's resonant church acoustic. It's generally first violinist Andreas Reiner who has the melodic material, which he delivers with passion, although as the disc develops the other players come more into the spotlight – especially Anja Lechner with some eloquently phrased cello lines. The Hilliard Ensemble's vocal contributions are clear and generous.
The problem, though, is the music itself. The short pieces are collected together (we're told neither how nor by whom) into five lengthier tracks, but the constant rhythm of a minute's music followed by a few seconds of silence quickly palls. Most of the individual segments are slow, with yearning violin melodies punctuated by dissonant chords in the lower strings. They quickly become indistinguishable from each other, and the rare faster sections are a welcome relief. Despite the exquisite performances, there's soon the sense that the disc's succession of unrelated but similar-sounding snippets doesn't add up to very much.
David Kettle