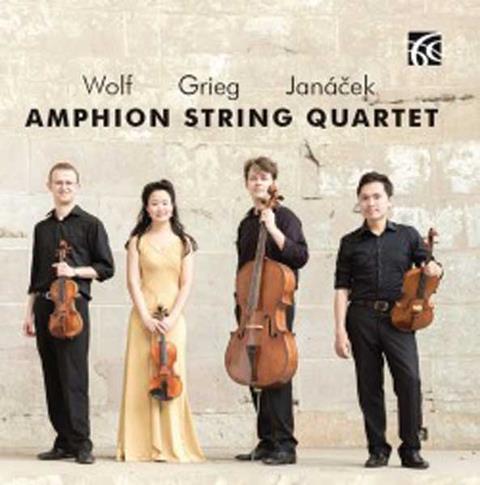 The Strad Issue: April 2015
Description: Mixed results in three varied masterpieces of the quartet repertoire
Musicians: Amphion Quartet
Composer: Wolf, Grieg, Janácek
Convincingly linking the very disparate sections within Grieg's four-movement structure, the New York-based Amphion Quartet gives a highly impressive account of the composer's youthfully passionate First Quartet. Having ideally balanced the vigour and tenderness of the opening Allegro, the players move away from the required gravitas to bring charm to the second-movement Romanze, though it is their fiery approach to the finale that sets the performance apart from most other recordings.
Fastidious as they are in their attention to Grieg's dynamic markings, the players probably exceed Janácek's expectations in the opening Andante of his Second Quartet 'Intimate Letters', where the wispy sul ponticello passages almost disappear from audibility.
I would have expected the leading violin to scream out the third movement's heartbreak more emphatically and to produce more frightening outbursts in the neurotic moments of the finale. But these are caveats in an otherwise technically immaculate performance, though the Lindsays (ASV) come far closer to encapsulating the quartet's story of sorrow.
A lightweight approach to Hugo Wolf's Italian Serenade makes a charming overture and the close microphone placement captures every inner detail, with impeccable balance between instruments throughout the disc.
DAVID DENTON