'Duelling' violin brothers Vladimir & Anton grew up surrounded by Romani music and use a variety of Romani techniques in their performances - including writing their own variations and cadenzas. Here they discuss the lost art of classical improvisation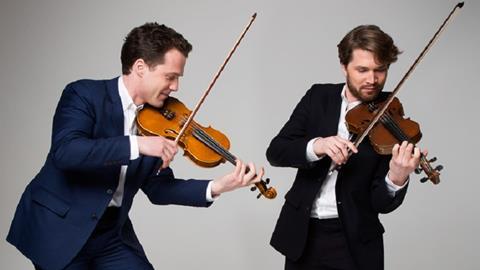 There are some concert tickets up for grabs tonight. You can choose between seeing some of your favourite violinists of today performing works by Paganini, Kreisler and Sarasate - or you can choose a concert featuring Paganini, Kreisler and Sarasate themselves performing live. Which would you attend?
For many of us the answer would be rather obvious; the latter tickets would present the chance of a lifetime to see icons of the past playing live. Each possessed a very special talent unfamiliar to most of today's violinists - in addition to being technically admirable, they would astonish their audiences with on-the-spot improvisation.
Nowadays, when improvisation is mentioned in relation to classical music it is easy to presume that a mistake has been made. Jazz is probably the first thing that comes to mind when we think of improvising.
Today's classical violinists would probably break out in a cold sweat if asked to improvise in front of an audience (and smirks would probably appear on the faces of the other violinists around them).
From the emergence of western classical music until the first half of the 20th century, most composers and many performers possessed great improvisational ability. Composing 'on-the-spot' was considered standard, highly entertaining and was well respected as a precious skill.
So, what happened in the last few decades? Why did classical music abandon improvisation?
Nobody can answer this question for sure, but many agree that the following three factors could have played a crucial role in the demise of classical music improvisation:
1. The search for perfection
As a result of the institutionalisation of music education and the introduction of competitions, artists prefer to take less risks in performance and to satisfy the majority in order to reach a perceived 'perfection'.
2. Historically informed performance
Without wanting to undermine the merits and the importance of HIP, thinking too much about a single 'right' way to perform a piece of music can lead to over-analysis and a rather rigid interpretation.
3. Recordings
Paradoxically the highly advanced technical processes available to us now allow us the opportunity to make the 'perfect' recording - building music like a puzzle, note by note. However this can in fact lead to a loss of authenticity, freshness or continuity in performance.
Why is improvisation so important?
It would take too long to name all the benefits of improvisation, but here are a few that we believe are fundamental:
• Being able to improvise means being able to adapt the interpretation of a piece of music to the performance situation. Differences of interpretation can be influenced by time or place or by any other circumstance
• Playing improvised cadenzas makes people curious and brings some originality to the performance
• Numerous pieces have been composed by great improvisers. Understanding and/or experiencing improvisation ourselves helps us to identify the musical sense of those works
• We all have our own unique instrumental abilities. 'Tailor-making' compositions gives us the opportunity to exploit and highlight those abilities
• Improvisation creates a more intense stage presence and prevents us from switching to autopilot
Composing and playing cadenzas for exams or competitions is not recommended to students any more. Denying our musicality in order to receive a few more points from the judges only underlines Bela Bartók's claim that 'competitions are for horses, not artists'. How often do we hear our music professors saying, 'I really like and enjoy the way you play, but if you don't want to be eliminated from the first round of the competition, you should change your interpretation'.
The majority of classical musicians fear improvisation even though they admire people who possess the skill. Most believe it is something they cannot learn themselves and this assumption is pretty dangerous. Anybody can learn how to improvise. Some are better than others, but we firmly believe it is important to experience the journey and to see how far it can take you.
Being brought up in a strict classical music family, adopting any form of improvisation into our early music making was never a consideration. Surrounded by musicians playing gypsy and traditional music as we grew up in central Europe, however, taught us to respect the art. We have been performing together for 20 years but it was only when we co-wrote and recorded our most recent album Vladimir & Anton Live that we allowed ourselves the freedom of improvisation when performing live, as well as inventing new violin sounds and techniques.
We purposefully recorded the 'Live' album in the concert hall in front of an audience in order to capture the liveliness and authenticity of a particular moment in time, never to be repeated again. In so doing we ran the risk of presenting various imperfections but it hasn't put us off! We look forward to continuing exploring the world of improvisation a lot more in the future.
Vladimir & Anton's upcoming album 'Live' will be released on 31 March 2017 on Rubyworks
Further reading/listening:
Kreisler performing his own Cadenza to the Beethoven Concerto in 1926
https://m.youtube.com/watch?v=PTcqxlbJ15c
Sarasate performing his Gypsy Airs in 1904
https://m.youtube.com/watch?v=ABm7nMVyNh4
The incredible Jonaska Ensemble perform Paganini in their own style (2014)
https://m.youtube.com/watch?v=UC2s7YL00SU
We also arrange our own music to allow us a little freedom to improvise during live performance. This is a performance of Those Were The Days with the Ulster Orchestra at the BBC Proms in the Park in Belfast (2016):
https://m.youtube.com/watch?v=Vv7r4GPU5zk
The Strad's September 2016 issue explores whether teaching children improvisation and diverse musical styles should be a requirement of string lessons in the 21st century - download on desktop computer or through The Strad App.