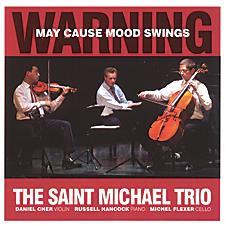 The Strad Issue: January 2012
Description: A rather too uptight collection of string arrangements
Musicians: Saint Michael Trio
Composer: Various
Covers of everything from Ennio Morricone and Led Zeppelin to Gershwin via Stevie Wonder explain the album title here. But despite the variety of repertoire, the mood doesn't change as much as it might. There's a fun, spirited approach to the likes of Sweet Georgia Brown, led by Russell Hancock's meaty and occasionally somewhat overpowering piano, and there's an element of theatre and an appealing mix of fire and grace about the disc's two tangos. But too often both arrangements and performance, while tasteful, feel a little polite and a little surface-bound. It's also difficult to pull off reinterpretations of such varied music without some errors of judgement, and here, the Claude Bolling dances are rendered twee, while the melody of Wonder's Isn't She Lovely just doesn't survive this slightly uptight string interpretation.
That said, there are some fine moments – the cello–violin duet from Michel Flexer and Daniel Cher in The Way You Look Tonight has real finesse, while in Stairway to Heaven all three players judge the balance between simplicity and indulgence perfectly, letting their hair down after an affecting start. But the impact of these moments is reduced by a set-list that's bloated in length and a little too disparate.


James Crel