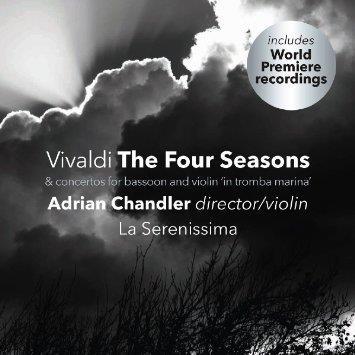 The Strad Issue: November 2015
Description: Another Four Seasons – played with real style and dynamism
Musicians: Adrian Chandler (violin/director) Peter Whelan (bassoon) La Serenissima
Composer: Vivaldi
Vivaldi's Four Seasons may be among the most-recorded of all works, yet there will always be room for performances of this exceptional calibre. Period-instrument recordings of the Seasons can sound bizarrely reminiscent of the 1960s avant-garde 'silly season', reducing this glorious music to a series of interpretative twitches and knee-jerks in a desperate attempt for novelty at all costs.
By comparison, Adrian Chandler and his gifted band La Serenissima rejoice in its dazzling inventiveness with a heartfelt eloquence and dynamism that captures fully the music's wide-ranging emotional narrative. Well engineered in a warm, open acoustic, this is as sonically beguiling as it is musically engaging.
Celebrated bassoonist Peter Whelan also plays two solo concertos – RV501 ('La notte') and RV496 ('per Maestro dè Morzin') – with enchanting expertise, although I suspect the main draw for readers of The Strad is a rare opportunity to hear a reconstructed violin 'in tromba marina' in the RV221 and RV313 concertos. As Chandler points out in his exceptionally informative booklet note, this appears to have been unique to Santa Maria della PietÁ (Vivaldi's Venice base) and is a three-stringed instrument possibly invented by the composer, not to be confused with the single-stringed tromba marina. It is relished here by Chandler with suitably rustic fervency.
JULIAN HAYLOCK