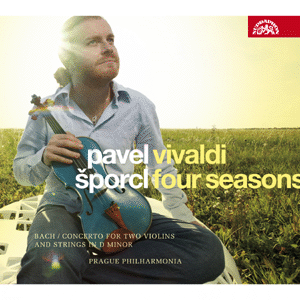 The Strad Issue: January 2008
Musicians: Pavel Š porcl (violin) Prague Philharmonia
Composer: Vivaldi, Bach
Pavel Šporcl offers the converse to the self-styled 'period' performances of Vivaldi's Four Seasons with an approach that employs a wide dynamic range and tempos that are tantalisingly fluid. He is not afraid to savour moments at leisure and equally tears into the music with an unashamed display of virtuosity. In total it is a view that offers more than a viable alternative to period cleanliness.
'Spring' arrives in high spirits and frolicsome mischief, though I am not convinced that 'Summer' should be so unpredictable, with Šporcl's free use of rubato presaging extremely stormy periods. He is equally excitable in the outer movements of 'Autumn', where overall effect takes precedent over clarity, a mood that creates a strong polarity to offset a central Adagio molto that almost falls asleep. Šporcl's 'Winter' is more predictable, and the finale brings an expected burst of brilliance.
Šporcl takes both solo parts in Bach's Double Concerto, a feat made possible in the recording studio. To my ears it robs any hope of a dialogue between two different voices, a fact that is particularly damaging in the fast outer movements.
His violin, of modern provenance, is sweet toned and complements the neat and stylish Prague orchestra, though the reticence of its harpsichord is probably a result of the recording balance. From a sound point of view it is otherwise very good, and as a bonus one can view two movements of the Vivaldi in video format on a computer.
DAVID DENTON