Current Juilliard School viola professor Paul Neubauer served for six years as principal violist of the New York Philharmonic, where he worked with such conductors as Leonard Bernstein and Mstislav Rostropovich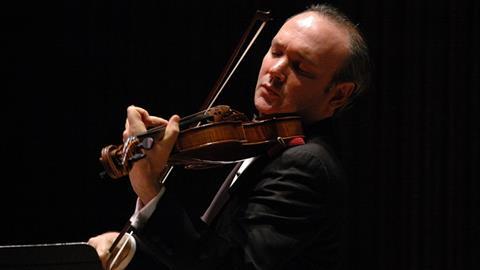 I remember decades ago, when I was in the New York Philharmonic, Rostropovich conducted us – with such energy, such love and joy! And then we were conducted by Bernstein, who had such love for music that you can't help but be affected.
One of the last times I worked with Bernstein he was quite ill and we were doing a Schubert symphony. He lifted his arms, we started, and then he put them down again, and we just played while he smiled at us.
If a lesser conductor did that, there would anarchy! I have this picture in my mind of someone loving music so much that it went to us, and we didn't need someone to wave their arms.
Paul Neubauer continues The Strad's marked-up sheet music series in association with Henle Verlag with the second and third movements of Schubert's Arpeggione Sonata in the July 2017 issue – giving bowings, fingerings and ideas for interpretation. Download now on desktop computer or through The Strad App.
Photo: Tristan Cook