The musician recounts the complicated process of recording the audio and video for his ambitious project to capture all the variations of Paganini's Caprice no.24 simultaneously. Watch the video below.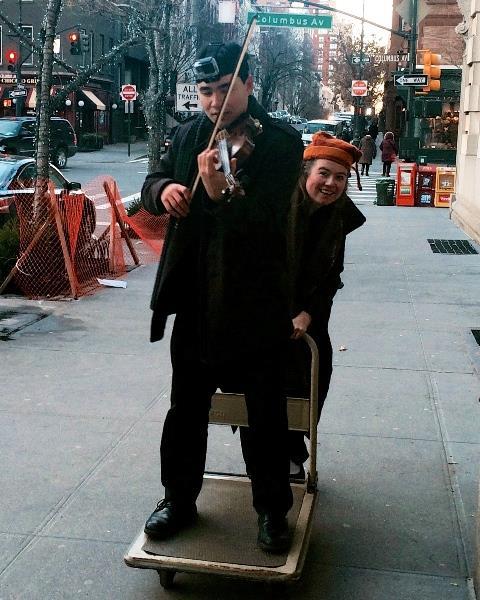 After listening to Glenn Gould discuss how he related tempos in the Bach Goldberg Variations during an interview with Tim Page, I became interested in how other works with variations relate in tempo. Specifically, I started wondering how Paganini's 24th Caprice would sound if the tempo was related so that all the variations harmonise with each other. It became quickly apparent that traditionally many variations in the work are played at tempos unrelated to the harmony.
I discussed the idea with Lara St. John last autumn, and played her a demo recording I had made in a Juilliard School practice room two years earlier with all the variations layered on top of each other. She thought it was a great idea, and started visualising how the violin could be presented in different ways in each variation.
We recorded the audio portion in a studio. I first did the theme and then used an in-ear headphone as we progressed, so I could hear the previous tracks and layer them precisely. This required the third variation and the finale to be played at much faster tempos than one might normally perform them. It felt like being in a Looney Tunes cartoon to play that last variation so quickly (and rumour has it that Lara was giggling in the control room, saying: 'Well, better him than me!')
We then started exploring ideas of camera angles and locations to shoot the video. One inspiration for me was a film of the fantastic Emanuel Feuermann in which he had a camera positioned under the bridge of his cello. This created a normally unseen and fascinating vantage point, inspiring our sixth variation.
For the most part, the ideas for video shots came from discussions and improvisations based on surroundings. We just happened to find a cymbal monkey on a record player on Avenue B, Manhattan, turning to the exact tempo of the piece. For the pizzicato variation, Lara had the idea of the sound of rain since it was raining outside. We found a little shelter in Central Park, where she juxtaposed the bridge of the violin and a real bridge.
The fourth variation will forever stay in my mind as one of the most amusing and interesting things I have ever done. Lara pushed me on a hotel trolley while I played the variation over and over while wearing a GoPro camera on my head (pictured). We did it in front of the American Museum of Natural History, so as to avoid stoplights and curbs, although we did hit a few bumps. It was quite a spectacle that I doubt I will ever encounter (although I would love to see it)!
For many of the outdoor shots, it was remarkably cold. I would have to go inside a building immediately after a take, and Lara ran over with gloves when that was not an option. It was so frigid I could not feel my fingers towards the end of some takes.
We set out to create something that would bring a new kind of attention to a great work that has inspired composers such as Brahms, Schumann, Rachmaninoff, Liszt and Lutoslawski. Paganini's 24th caprice shows how a piece composed so long ago can remain timeless.
Watch Eric Silberger's Paganini video below:
The locations for the video variations, all in New York, are listed below:
Theme: looking south at the Literary Walk at the Mall in Central Park.
Variation 1: Naumburg Bandshell, Central Park.
Variation 2: Nowhere Bar, downtown NYC.
Variation 3: a room at Kaleidoscope Sound.
Variation 4: the eastern side of the American Museum of Natural History
Variation 5: an Upper West Side roof
Variation 6: on top of a marble table
Variation 7: an apartment on Central Park West
Variation 8: an Upper West Side stairwell
Variation 9: at a lake in Central Park
Variation 9: outside a record store in Alphabet City
The Finale: looking north from the Literary Walk at the Mall in Central Park
Eric Silberger is performing Mozart's Fifth Violin Concerto with the Philharmonia Orchestra conducted by Vladimir Ashkenazy in Leicester on 18 April and in London on 19 April.
Subscribe to The Strad or download our digital edition as part of a 30-day free trial. To purchase single issues click here.