The 18-year-old Japanese musician wins $30,000 and concert opportunities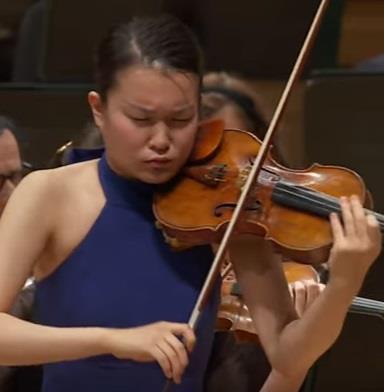 Ayana Tsuji has been named the winner of the 2016 Montreal International Music Competition – this year dedicated to the violin. The 18-year-old Japanese musician, who last year was the fifth placed laureate at the Joseph Joachim International Violin Competition in Hannover, receives the top cash prize of $30,000 and concert engagements following her performance of the Sibelius Concerto with the Montreal Symphony Orchestra under guest conductor Giancarlo Guerrero in the finals. Tsuji also receives the majority of the special prizes, including the $4,000 award for the Best Performance of the Compulsory Canadian Work and the $2,500 award for the Best Semi-Final Recital.
Second prize, worth $15,000, goes to 23-year-old South Korean Bomsori Kim, who was a finalist at the 2015 Tchaikovsky competition, while third prize, worth $10,000, goes 17-year-old Minami Yoshida, from Japan. Kim also receives the $5,000 People's Choice Award, donated by Radio Canada.
The remaining three finalists - 2016 Leopold Mozart International Violin Competition-winning South Korean violinist Ji Won Song (23), 2013 Rodolfo Lipizer International Violin Competition-winning French violinist Fedor Roudine (23), and 28-year-old Finnish violinist Petteri Iivonen - each receive a $2,000 grant.
The 2016 candidates, all aged under 29, performed for an international jury comprising Pierre Amoyal (France); Boris Brott (Canada); Boris Garlitsky (Russia); Ida Kavafian (Armenia/United States); Mihaela Martin (Romania); Vera Tsu Wei Ling (China); and Kathleen Winkler (United States).
The Montreal International Music Competition takes place annually in, by turns, violin, piano and voice categories.
Read: Montreal International Music Competition 2016 names 24 shortlisted violinists
Read: Montreal International Music Competition 2016 names six violin finalists