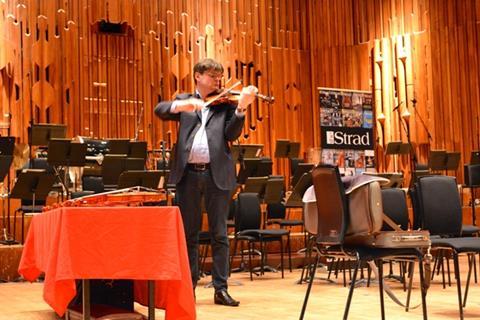 Can you pick the Stradivarius in our audio clip of six violins?
Our first Strad Sunday on 12 April 2015 featured an informal blind test of six violins on the Barbican concert stage, each played by London Symphony Orchestra leader Roman Simovic.
In random order, these were: Simovic's own 1709 Stradivarius; an 1850 Jean-Baptiste Vuillaume; a 1923 Giuseppe Fiorini; a contemporary Del Gesù copy by London-based maker Philip Ihle; a Mirecourt French trade violin c1900, worth around £1,000; and an 1835 A.S.P. Bernardel.
The audience, who were unaware which instrument was which, voted overwhelmingly in preference of the Stradivarius, with Ihle's instrument coming second.
Listen to the clip to see if you, too, can pick the Strad!