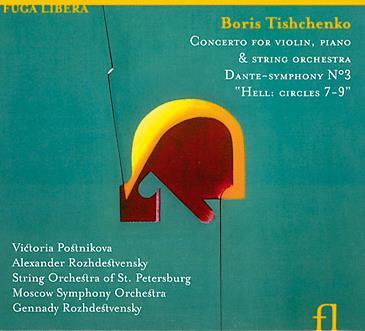 The Strad Issue: Febraury 2008
Musicians: Alexander Rozhdestvensky (violin) Viktoria Postnikova (piano) String Orchestra of St Petersburg, Moscow Symphony Orchestra, Gennady Rozhdestvensky (conductor)
Composer: Tishchenko
The main event here is an all-too-painfully illustrative symphony (2001) concerned with the deepest circles of Hell in Dante's Inferno that rehashes every cliché in the Russian music phrasebook with a few Western ones thrown in for good measure. The same is true of the concerto from 2006. Here Gennady Rozhdestvensky is joined by his wife Viktoria Postnikova at the piano and son Alexander, who gives an especially engaging account of a full-blooded violin part. The movement titles give you a good idea of their form and character: Fantasia; Rondo; Interludia; Romance. The most positive aspects of Tishchenko's reputation as the most favoured pupil of Shostakovich are revealed by the angular not-quite-fugue theme of the fantasia and the merry dance of the second which, as is the way in these times, may or may not be understood as savagely ironic. The glassy harmonies of the slow, Nocturne-like interlude cede surprisingly easily to a rather charming duet for the soloists – and this finale is the most intriguing thing on the disc, tender and quirkily original, encouraging some winning, Tchaikovskian phrasing from Postnikova and Rozhdestvensky junior. The symphony receives a passionate and apparently well-prepared first performance.



Peter Quantrill