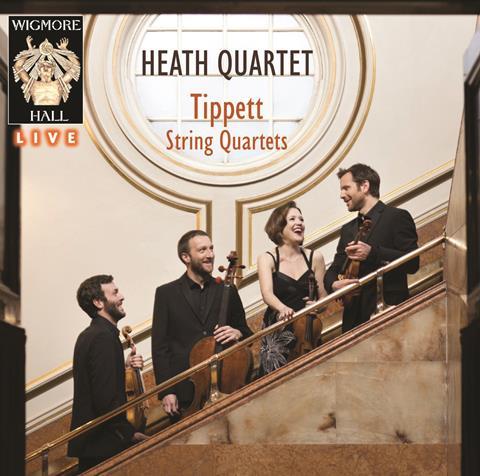 THE STRAD RECOMMENDS
The Strad Issue: April 2016
Description: A state-of-the-art Tippett quartet cycle live from Wigmore Hall
Musicians: Heath Quartet
Composer: Tippett
It was brave of the Heath Quartet to make its debut on disc with a Tippett cycle recorded live at Wigmore Hall. Given the formidable technical and interpretative difficulties of this music, risking it live could be a dangerously reckless enterprise. That the result is an unqualified triumph won't surprise anybody who has followed the public career of this passionate but supremely controlled ensemble. As a former record producer I didn't cry 'retake' in my mind at any point in these tricky scores; as a former festival director I started by crossing my fingers in hope but soon uncrossed them with growing confidence; and as a former Tippett scholar I rejoiced at the gleaming new insights provided at every twist and turn of sustained arguments.
As with only the greatest composers, Tippett's music creates its own discourse with time and period (see last issue) and, as the decades pass, his works increasingly assume their singular significance, unrelated to the circumstance of creation and 'zeitgeist'. This natural passage was movingly enshrined on disc when the Lindsays recorded Quartets nos.1–3 in 1975, just before the composer went on to write nos.4 and 5 for them. The Heaths now deliver a similar epiphany with nos.4 and 5 in particular: birth pangs are gone, critical obfuscation obliterated.
These much-maligned works are at last revealed as the masterpieces they always were but now speak as part of a perceived trajectory in which Blake's 'innocence and experience' march hand in hand with Eliot's wisdom and Yeats's adventuring. Vivid sound and superb booklet notes make this an essential set for any true music lover.
Geraint Lewis