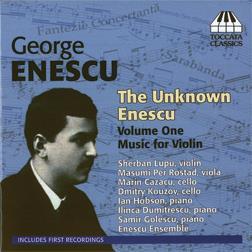 The Strad Issue: January 2012
Description: A welcome exploration of lesser-known gems from the Romanian master
Musicians: Sherban Lupu (violin/conductor) Masumi Per Rostad (viola) Marin Cazacu, Dmitry Kouzov (cello) Ian Hobson, Ilinca Dumitrescu, Samir Golescu (piano) Enescu Ensemble of the University of Illinois
Composer: Enescu
This CD has two geographical centres: Romania, homeland of Enescu and most of the artists, and the University of Illinois, where most of them teach; the recordings are also split between the two. Sherban Lupu, the violinist and conductor here, has unearthed quantities of Enescu's output, and first recordings are scattered through the disc. Some of the pieces are juvenilia, much of it gentle and attractive, including a Légende for violin and piano written when he was nine, and displaying a cultivated taste for the Romantic and showy. From the other end of his life comes the short but emotionally complex Andantino malinconico of 1951. The artists here come and go, providing inter alia a delightful, delicate piano quintet for the Nocturne 'Villa d'Avrayen'.
The Enescu Ensemble of the University of Illinois, playing arrangements by Sherban Lupu, is not the finest of groups, but Lupu himself, a unifying presence who appears on every track in one guise or another, gives some remarkable performances. Many of these works deserve to be better known, particularly the unaccompanied ones: the Sarabande is one such, a richly woven work with Bach in close attendance; the Airs dans le genre roumain is rooted in the folk-fiddling traditions of Romania, with Lupu superbly idiomatic. The recorded sound is clear and focused.



TIM HOMFRAY