Our 125th birthday issue includes features on how recording changed string playing and the Amati 'King' cello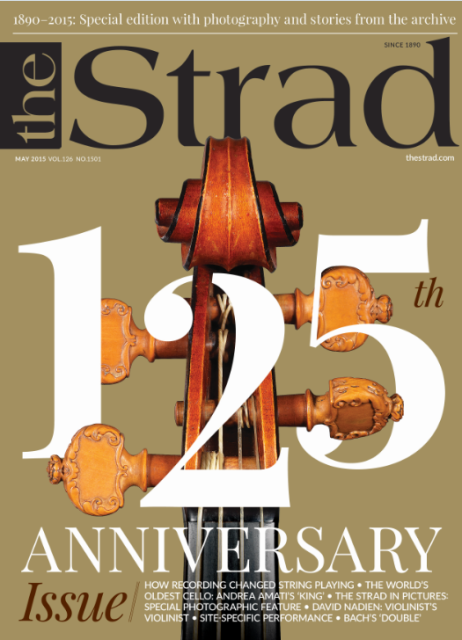 The Strad's May 2015 issue is on sale now †• a special edition celebrating 125 years of the publication, featuring pictures from The Strad's archive, spanning May 1890 to the present day.
Elsewhere in the the issue, Tully Potter looks at the effect of sound recording on string technique and interpretation; Hannah Nepil examines the world of site-specific performance, taking music out of the concert hall and into unconventional spaces; in the first of two articles, Andrew Dipper examines the history and construction techniques of the Andrea Amati 'King' cello, thought to be the oldest cello in existence; Eric Wen looks back on the career of New York Philharmonic concertmaster David Nadien, who died last year; and our 60-page Degrees Supplement 2016 provides comprehensive listings of international courses for string players.
In our regular sections: In Focus gives a close-up view of a 1939 viola by Simone Sacconi; Michael Doran discusses his method for pre-bushing a cello endpin hole in Trade Secrets; US luthier Samuel Zygmuntowicz invites us into his workshop in My Space; violinist Roman Simovic guides us through Bach's Double Concerto in Masterclass; cello professor Philippe Muller gives tips on left-hand shifting in Technique; violist Adrien La Marca takes us through her Practice Diary; violin and cello tutors help a student with a shorter fourth finger than usual in Ask the Experts; and violist Kim Kashkashian talks about Berio's Voci as her Sentimental Work.
We also bring you news of the latest competitions, products and auctions, and comprehensive reviews of concerts, CDs and books.
The digital magazine is on sale now. The print edition is on sale from Friday 24 April 2015. Subscribe to The Strad or download our digital edition as part of a 30-day free trial. To purchase single issues click here.