The issue includes Italian violinist Nadja Salerno-Sonnenberg on her multifaceted career, preparing for orchestral auditions, and the Kronos Quartet in pictures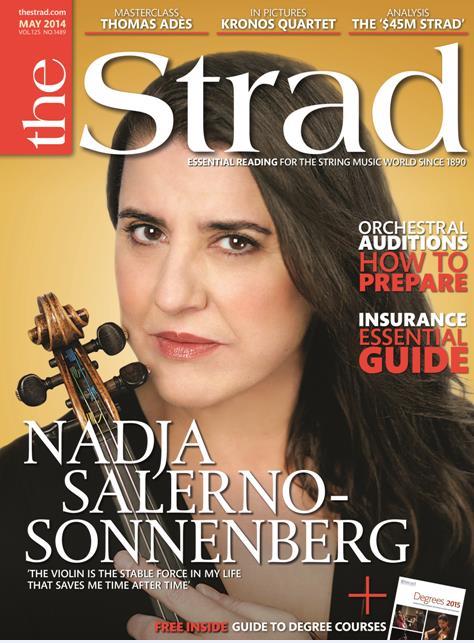 The May issue of The Strad is on sale now, in which we interview Italian violinist Nadja Salerno-Sonnenberg on her varied career – from leading her own chamber ensemble to founding her own record label.
The issue also includes: preparing for orchestral auditions by teachers and orchestral principals; celebrating 40 years of the Kronos Quartet in pictures; the best summer music festivals for string playing; the secrets of equisetum, a plant used for centuries as a burnishing tool by instrument makers; the movement-based Dalcroze method of music education; the best insurance policies to cover accidents, public liability, health and instrument damage; and the Degrees Supplement 2015: The Strad's international guide to further education for string players

In our regular sections: In Focus gives a close-up view of a 1675 bass viol by Richard Meares; Hubert De Launay gives his method for making a viola da gamba scroll in Trade Secrets; Dutch luthier Saskia Schouten invites us into her workshop in My Space; Peter Herresthal guides us through Thomas Adès's Violin Concerto, 'Concentric Paths' in Masterclass; Simon Fischer talks reining in your physical movements in Basics; double bassist Tom Martin discusses the importance of balance and freedom in the left hand in Ask the Teacher; cellist Dane Johansen takes us through his Practice Diary; and five string pedagogues discuss playing in the second position in Ask the Experts.

Plus, we bring you news of the latest competitions, products and auctions, and comprehensive reviews of concerts, CDs and books.
The digital magazine is on sale now. The print edition is on sale from Friday 25 April 2014.
Subscribe to The Strad or download our digital edition as part of a 30-day free trial. To purchase back issues click here.