What happened when top international luthiers created a group-made violin - Project 'OBIE 1' - at VSA/Oberlin Violin Makers Workshop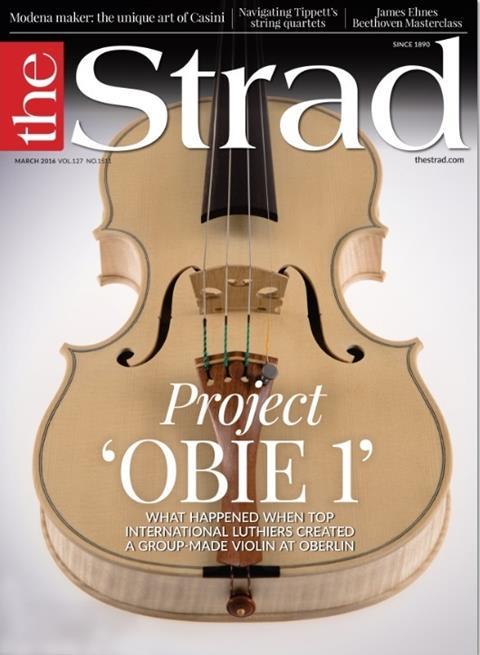 The Strad's March 2016 issue is on sale now, in which Christopher Germain investigates the 'OBIE 1' project - a violin based on an original model, constructed by 60 luthiers at last summer's VSA/Oberlin Violin Makers Workshop.
Elsewhere in the issue, the members of the Heath Quartet discuss their new disc of complete Tippett string quartets with Oliver Soden; Pauline Harding talks to top international string players about the importance of breathing, speaking and singing through every phrase; and Christoph Landon compares two of 17th-century Italian maker Antonio Casini's finest cellos.
In our regular sections: the new Masterclass series continues with violinist James Ehnes, who marks up the sheet music for Beethoven's Violin Sonata no.5, 'Spring'; In Focus gives a close-up view of a c.1718 violin by Daniel Parker; Mathijs Heyligers shares his methods for making Baroque accessories in Trade Secrets; Swedish luthier Peter Westerlund invites us into his workshop in My Space; cellist Karine Georgian discusses thumb position in Technique; UK violist Rosalind Ventris takes us through her Practice Diary; three tutors discuss how a late starter can progress beyond passing exams in Ask the Experts; and cellist David Geringas talks about Bach's Cello Suite no.1 in Sentimental Work.
We also bring you news of the latest competitions, products and auctions, and comprehensive reviews of concerts, CDs and books.
The digital magazine is on sale now. The print edition is on sale from Wednesday 24 February 2016.