We examine five centuries of alteration to the Amati 'King' cello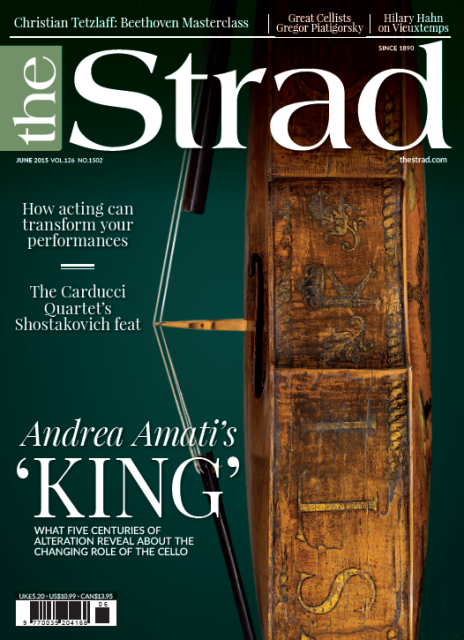 The Strad's June 2015 issue is on sale now in which Matthew Zeller examine five centuries of alteration to the world's oldest cello †• the Andrea Amati 'King', housed at the National Music Museum in South Dakota.
Elsewhere in the the issue, British ensemble the Carducci Quartet discuss taking on Shostakovich's complete cycle; we consider the legacy of Russian-born cellist and teacher Gregor Piatigorsky, who helped popularise the cello as a solo instrument in the US; actors and musicians explain the benefits of theatre techniques to string players; and Tully Potter investigates the playing career of Hungarian-born violinist Leopold Auer.
In our regular sections: In Focus gives a close-up view of a 1720 cello by Michele Platner; Collin Gallahue discusses his method for colouring boxwood pegs in Trade Secrets; Singapore-based luthier Per Ovesen invites us into his workshop in My Space; violinist Christian Tetzlaff guides us through the first movement of Beethoven's Violin Concerto in Masterclass; violin professor Mimi Zweig considers the foundations of violin playing in Technique; cellist Alisa Weilerstein takes us through her Practice Diary; luthiers and dealers explain why the prices of mid-range instruments can vary so much in Ask the Experts; and violinist Hilary Hahn talks about Vieuxtemps's Violin Concerto no.4 as her Sentimental Work.
We also bring you news of the latest competitions, products and auctions, and comprehensive reviews of concerts, CDs and books.
The digital magazine is on sale now. The print edition is on sale from Thursday 28 May 2015. Subscribe to The Strad or download our digital edition as part of a 30-day free trial. To purchase single issues click here.