Ariane Todes introduces 28 tracks specially chosen to accompany the new August issue of The Strad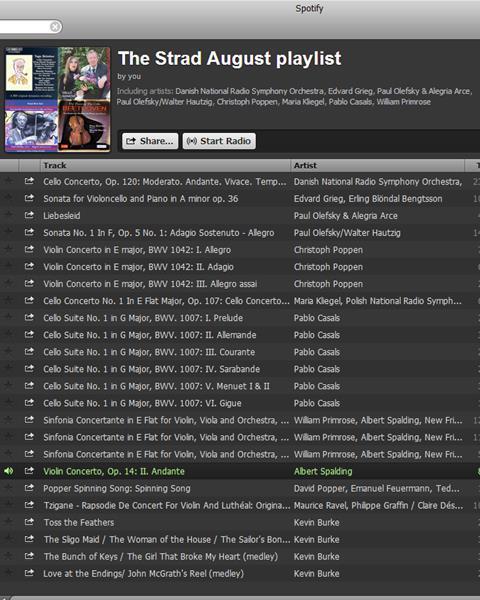 Our August Spotify playlist gives us an opportunity to celebrate the playing of two formidable cellists who died recently, as we report in the main issue. Former Piatigorsky teaching assistant Erling Blöndal Bengtsson was 81 – we interviewed him last year on his 80th birthday. His repertoire was broad – he premiered 14 cello concertos by Scandinavian composers – so to represent this in our August playlist, we've chosen his performance of the Cello Concerto by Danish composer Vagn Holmboe, but also more traditional Nordic fare with the first movement of the Grieg Cello Sonata, with Nina Kavtaradze on piano.
Cellist Paul Olefsky also died recently, at the age of 87. A student of Casals who served in the US Navy during the Korean War, he taught at the Peabody and Hartt schools, and gave the first US performances of works by Lutoslawski, Henze and Ginastera. Here he plays more old-fashioned favourites: Kreisler's Liebesleid (recorded at the tender age of 76) and the first movement of Beethoven's Sonata no.1 in F major, op.5 no.1.
In our People pages in August violinist-turned-conductor Christoph Poppen reveals the advice he'd give his younger self about broadening his horizons, and here that younger self is, playing Bach's Violin Concerto in E major. In the same pages cellist Maria Kliegel offers her words of wisdom, explaining how 'memory training is key for making progress with dependable results', and in our playlist she puts her memory to the test in the first movement of Shostakovich's First Cello Concerto.
Also in our People pages Baroque violinist Judy Tarling offers her favourite tracks. One choice is Pablo Casals's entire Bach Cello Suites (technically not a single track) so how could we not include some of that in our selection, and why not start at the beginning, with the First Suite? What do you think of Tarling's description of Casals's 'clear and simple version'?
You can hear the latest Brahms release by our cover star David Aaron Carpenter free in our video section, so we haven't included them in the Spotify playlist, but our other featured artist might need more introduction. Albert Spalding was a huge star in his day – he was born 125 years ago this August. He was one of the best-known players in the US and even internationally but considered it his priority to fight for his country and enlisted for both the First and Second World Wars. You can read his inspiring story in the August issue, and while there is not a huge amount of recorded material, there is enough to bring him to life. Here we've included his recording of Mozart's Sinfonia concertante with the great violist William Primrose, and to show off his romantic and virtuosic sides, Cassadó's Danse du Diable Vert. But given that he gave the premiere of the Barber Concerto, it would be wrong not to include his version of the slow movement of that. Make sure you have a hankie ready.
On the 100th anniversary of the death of David Popper, we talk to some top cello teachers to find out how they use the player's studies in their teaching. We couldn't find any recordings of these studies – maybe not so surprising, although many of the teachers we talk to emphasise the musical qualities of the works. But by way of an example of his composition style and the technical challenges he presents to players, here is Emanuel Feuermann performing Spinning Song. Blink and you'll miss it.
Our August Masterclass feature is given by the fabulous young violinist James Ehnes, who offers his performing advice on Prokofiev's Second Violin Concerto, which he considers 'mysterious, heartbreakingly beautiful, playful, sombre, tremendously exciting – and difficult to play well'. For this playlist we've included his recording of the composer's First Violin Sonata, with Wendy Chen playing the piano.
In our sheet music review section, French violinist Philippe Graffin looks at a new Bärenreiter edition of Ravel's Tzigane. This references fresh sources and also presents a facsimile of the score used by the niece of Jelly d'Arányi, the work's dedicatee, which includes some of the soloist's own instructions. In the review Graffin looks at some of the context of the piece, explaining, 'Today, Tzigane is commonly associated with the virtuoso works of the likes of Wieniawski and Vieuxtemps. In reality, it is a pastiche, more of a memory of those sorts of pieces.' Hear his interpretation of the gypsy-music-inspired work, with pianist Claire Désert.
To round it all off with something completely different, we finish with some fancy Irish fiddle tunes played by Kevin Burke, who features on the last page of the magazine in our Double Acts interview with his brother, bow maker Noel Burke. So get your dancing shoes out.
Tell us what you think of our list, and if there's anything you would have added or done differently.
You can find out more about the issue and buy it here, or if you want instant access to it on your digital reader, download it instantly as part of our 30-day free trial.