Berlin Philharmonic music director Simon Rattle discusses the mysteries of the orchestra's string sound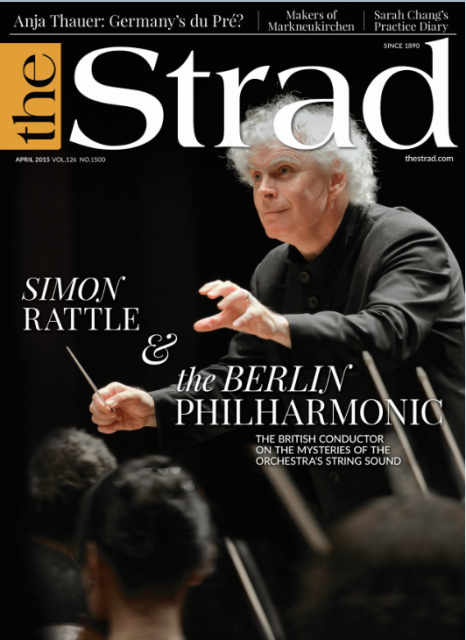 The Strad's April 2015 issue is on sale now, featuring British conductor Simon Rattle on the Berlin Philharmonic's unique string sound.
We also tell the story of little-known German cellist Anja Thauer, whose career was tragically cut short, through newly released recordings; discover how the small German town of Markneukirchen grew to be the most productive lutherie centre in the world; and assess the recorded legacy of the great American cellist Leonard Rose, who became one of the 20th century's most renowned pedagogues.
In our regular sections: In Focus gives a close-up view of a 1728 violin by Pieter Rombouts; Raymond Schryer discusses his method for installing a carbon-fibre reinforcement to a cello neck in Trade Secrets; Mittenwald maker Anton Sprenger invites us into his workshop in My Space; Tabea Zimmermann guides us through Hindemith's Sonata for solo viola op.25 no.1 in Masterclass; double bass professor Jeff Bradetich gives tips for bow transitions at the frog in Technique; violinist Sarah Chang takes us through her Practice Diary; two bow makers and one horse hair supplier advise on how often players should have their bows rehaired in Ask the Experts; and cellist Alban Gerhardt talks about Dvorák's Cello Concerto as his Sentimental Work.
We also bring you news of the latest competitions, products and auctions, and comprehensive reviews of concerts, CDs and books.
The digital magazine is on sale now. The print edition is on sale from Monday 23 March 2015. Subscribe to The Strad or download our digital edition as part of a 30-day free trial. To purchase single issues click here.