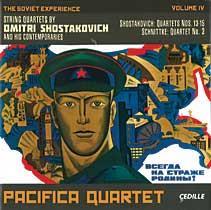 The Strad Issue: January 2012
Description: A rewarding second volume in an ongoing Shostakovich cycle
Musicians: Pacifica Quartet
Composer: Shostakovich, Prokofiev
The Pacifica Quartet launched its Soviet Experience series, a sort of complete-Shostakovich-plus-one, with the fifth to eighth quartets and Miaskovsky's 13th. In this second volume it goes back to the beginning. Shostakovich's First Quartet is played with a delightful naivety and joie de vivre. The tonal palette is wide, with real muscularity when called for, but there is an overall lightness of touch. The composer's humour permeates it all: the E major section of the second movement has an infectious, sunlit charm. The more emotionally troubled world of the Second Quartet is evoked with playing of concentrated intensity. There is wrenching compulsion and power in the development of the first movement, the leader Simin Ganatra performs the recitatives of the second with a sense of passion held in check, and the finale has passages of unsettling wildness.
The opening movement of the Third is nicely done, the clean, crisp playing of the opening evolving into clipped severity in the development fugue and beyond into the grotesqueries of the following two movements, before the deep tragedies and ironies which follow. The long lines of the Fourth Quartet have an eloquence that is wide-ranging, passionate and ultimately moving.
Prokofiev's Second Quartet, based on Caucasian folk melodies, receives a colourful, dramatic performance. The recorded sound is warm and natural.



TIM HOMFRAY