After a week in Frankfurt, Vicky Hancock ponders the issue of testing new instruments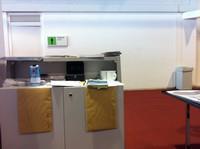 Last week I was in Frankfurt for my first ever Musikmesse. Slightly in awe of the ten massive halls filled with instruments and music-related businesses, I helped to man The Strad's stall in hall 1.2, the stringed instruments area, which came with a splendid view of the gents' toilets.
The fair was a great opportunity for me and the rest of the seven-strong team to give out magazines to potential readers as well as to get to know our existing subscribers. It was also a good chance for me to look for accessory makers and to get ideas for the magazine's products page.
Our stall was surrounded by violin makers, dealers and distributors and there were hundreds of instruments, both acoustic and electric, to try out. It soon became clear that certain works topped the chart when testing a new instrument and not an hour seemed to pass without hearing snippets of Mozart's G major Concerto, the opening couple of lines of the Bruch no.1, Méditation from Thaïs and the Preludio from Bach's E major Partita – with the occasional Mendelssohn Concerto or theme from Schindler's List thrown in for good measure.
Whether you've got £3,000 or £30,000 to spend, buying a stringed instrument is always a big deal, and hearing people try out instruments led me to wonder: do people usually have a routine or a tried and tested way to choose the right instrument? Or is the whole process too subjective for a system to work?
Were you at Musikmesse? What were your highlights? Also, let us know how you test a new instrument