Listen to tracks we've specially chosen to accompany our new viola-themed issue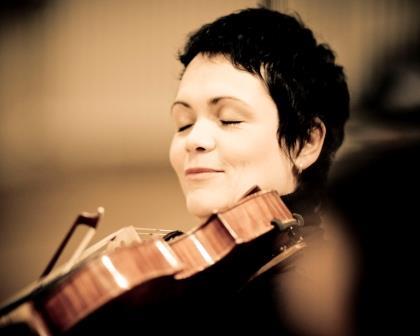 The May issue of The Strad is all about the viola and we've put together a special playlist for you to bring our articles to sonic life and show off the instrument in all its glory.
Listen to our Spotify playlist here.
One of today's leading violists, Tabea Zimmermann, features on our cover, and here she plays Max Reger, George Benjamin and Rebecca Clarke, demonstrating just some of her range as a musician.
In the magazine we look at some of the highlights of the viola quartet repertoire, and here the players we talk to perform some of the works whose themes are so special to them as viola players. Listen, for example, to the Belcea Quartet perform the minuet of Mozart's 'Hoffmeister' Quartet K.499 and hear what the group's violist Krzysztof Chorzelski describes as 'a chromatic countersubject which gives an unexpected melancholy feel to the whole melody'.
We also have the Takács Quartet playing Smetana's First Quartet with its glorious viola solo opening. As Geraldine Walther explains in the article: 'The solo at the opening is so strong, it's like a warrior.' Another well-known quartet player we spoke to for that article was Robin Ireland, and we've included him playing his remarkable transcription of the Bach 'Chaconne'.
In the People section of the magazine Garth Knox chooses his favourite tracks, but as none of them are of the viola, we've included him playing his own work, Viola Spaces. You'll have to read the magazine to find out which he chose to listen to himself!
We've also included a couple of tracks from Mozart viola quintets. Technically they're not mentioned in the magazine, but we'll use any excuse to listen to these works, especially when they're played by the Amadeus Quartet with Cecil Aronowicz providing the second viola part.
Finally, there's one track that has nothing to do with violas. It's from the Bollywood movie Amar Akbar Anthony, and it's called My Name is Anthony Gonsalves. As you can read in the magazine, May marks the 100th anniversary of the Bollywood film industry, whose music is so richly scored with string music, and Anthony Gonsalves was one of its leading lights. This song pays tribute to the master.
To find out more about what's in the May issue, which includes much more relating to violas as well as the wider string world, go here.
To download the issue and find out more about subscribing to our digital edition go here.
Photo of Zimmermann: Marco Borggreve