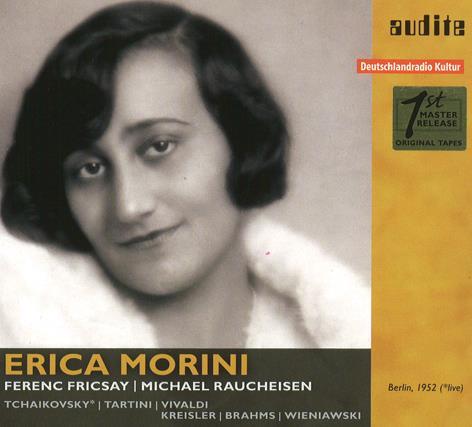 The Strad Issue: January 2011
Musicians: Erica Morini (violin) Michael Raucheisen (piano) RIAS Symphony Orchestra/Ferenc Fricsay
Composer: Tchaikovsky, Tartini, Vivaldi, Kreisler, Brahms, Wieniawski
Here is a portrait of the marvellous Erica Morini (1904–95) as she was in Berlin in 1952. She is playing favourite music, starting with a live Tchaikovsky Concerto, well supported by Ferenc Fricsay and the ensemble he built in the American sector. Orchestral strings are a little papery, but Morini enters with a real come-hither sound and carries all before her, with good dynamic range and a superb cadenza. She finds terrific intensity in the Canzonetta and delivers a humdinger of a finale, slightly cut.
The radio studio sound is good in the items with Michael Raucheisen – who recorded a few of them with Morini in the 1920s before his politics and her race got in the way. She is sublime in the two Baroque sonatas – try the confiding way she plays the Allegro comodo of the Tartini, or the depth in Vivaldi's Largo.
Her Kreisler is echt Wienerisch but different from the composer's. Schön Rosmarin is miraculously fast and light; Caprice viennois has lovely staccato and double-stops. The Brahms Waltz is heavenly – a whole era is summed up in this track – and the Wieniawski is virtuosic and persuasive even by her standards, with seductive rhythm and beautiful trills.
TULLY POTTER