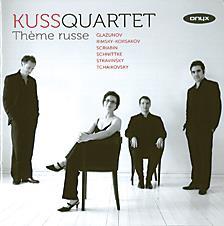 The Strad Issue: January 2012
Description: Sophisticated performances of Russian music for quartet
Musicians: Kuss Quartet
Composer: Tchaikovsky (arr. Dubinsky), Stravinisky, Schnittke
As the booklet notes for this CD point out, the string quartet was not a natural medium for Russian composers of the 19th century, especially when they were trying to be properly Russian. So the multi-composer set of ten Variations on a Russian Folk Song, although written in 1898, doesn't come across as particularly idiomatic. Even the folk-song theme was actually written by Rimsky-Korsakov, who provided a delightful variation decorated with pizzicato. The theme also gives rise to rather good canon and fugato variations by Lyadov and Winkler, and there is a gentle, unassuming variation by Scriabin. The Kuss Quartet plays them all, along with the arrangements of Tchaikovsky's Album for the Young, with a sophisticated and easy charm.
The first piece from Tchaikovsky's Album sits separately from the rest, perhaps because it, too, is a 'Russian' melody, this time a real one. The players then take a detour into the 20th century with strong, understated performances of the Concertino by the Russian exile Stravinsky and Schnittke's Canon in memoriam Igor Stravinsky. Tchaikovsky's First String Quartet receives a thoughtful, lyrical performance, which gives full credit to the composer's contrapuntal part-writing and gentle sensibilities – unlike too many who perform this work with a symphonic swagger. The recorded sound is warm and clear.



TIM HOMFRAY