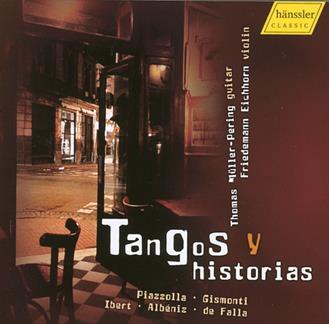 The Strad Issue: January 2008
Musicians: Friedemann Eichhorn (violin) Thomas Müller-Pering (guitar)
Composer: Piazzolla, Gsmonti, Ibert, Albéniz & Falla
The Piazzolla bandwagon keeps rolling, with his compositions being recorded in the most varied arrangements. If after a while Piazzolla's pieces do betray the blueprint that is common to almost all of them, taken a few at a time they are agreeable enough, reflecting the angst of our troubled times in a not-too-testing way. Histoire du tango exceptionally brings back the spirit of tangos past, from its beginnings in 1900s brothels through the 'Old Guard' type of dance and reaching into Piazzolla's own 'New Tango'. Originally written for flute and guitar, the piece adapts well to the violin, and Friedemann Eichhorn incorporates some 'special effects' dear to tango violinists, like scratching with the bow behind the bridge. Otherwise, he doesn't quite get into the style as maybe only Latin musicians can (Gidon Kremer being the exception that confirms the rule); his playing is too 'clean' and decent.
The untroubled lyricism of Gismonti's Agua e Vinho and morsels by Albéniz (Mallorca) and Ibert (Entr'acte) fare better, the first two in nice arrangements by the present guitar player. Falla's Suite popular española is played in a combination of two separate arrangements: the solo part in Pawe? Kocha?ski's violin transcription and the accompaniment in Miguel Llobet's version for guitar. This works beautifully, giving the music a nice, intimate feeling. Here again I find Eichhorn's elegant playing more suited to the lyrical songs than to the spicier final 'Polo'. A rarer Kocha?ski arrangement of the Pantomime from El amor brujo brings this well recorded CD to an enchanting close.
Carlos María Solare