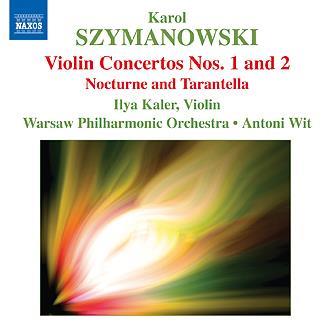 The Strad Issue: January 2007
Musicians: Ilya Kaler (violin), Warsaw National Philharmonic Orchestra, Antoni Wit (conductor)
Composer: Szymanowski
Szymanowski's violin concertos were composed 17 years apart, in 1916 and 1933. The First belongs to the feverishly productive period which also yielded the dazzling Mythes for violin and piano and the hectic Nocturne and Tarantella, whose orchestral version also appears on this disc. In his Second Concerto, Szymanowski embraced a sparer folk idiom, rooted in the raw Polish folk music of the Tatra Mountains and contrasting with the lush orientalism of the First.
Or so it seemed. For these gorgeously incisive performances by Ilya Kaler emphasise relations between the two as much as contrasts. In the single-movement First Concerto, the clarity of Szymanowski's argument and the unity of his motivic detail emerges lucidly, endowed with an almost Classical refinement: there is no emotive overloading, apart from two Scriabinesque late climaxes in the orchestra. The profound beauty of this reading lies in its wise overall restraint: Antoni Wit permits fine detail – celesta, harp, soft muted trumpet, bass clarinet – to emerge beguilingly.
The Second Concerto has received some sensationally fine recordings lately (Chantal Juillet on Decca, Thomas Zehetmair on EMI). The opening here is pleasantly languid but not sultry, and the first-movement climax, although rapturous, feels almost neo-Classical. Kaler's yearning slow movement features some brilliant double-stopping and a finely restrained cadenza, while the finale makes riveting use of a rising and falling fourth pattern that is Szymanowski's trademark. The Nocturne and Tarantella alternates Hispanic wistfulness, eerie flutes and languid oboes with some electrifying fast passages, all effortlessly captured by Naxos's capable Polish engineers.
Roderic Dunnett