The double bassist shares experiences of his initial violin lessons with the Arco project, plus how the initiative has shaped his musical life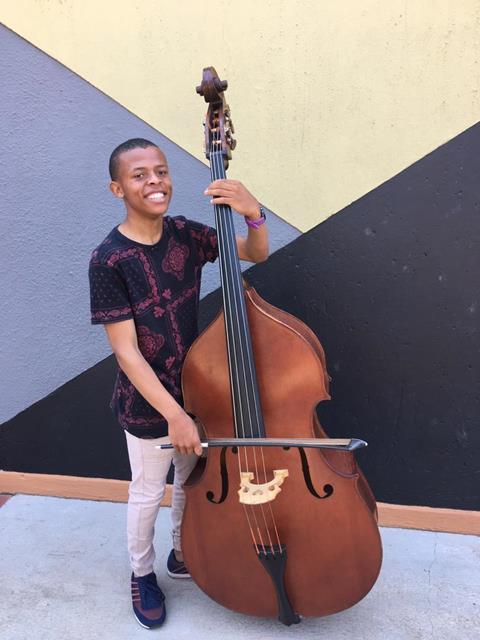 My love of music started from a very young age. I was fortunate to grow up in a musical home, and while no one in my family is an instrumentalist, Kwela music has always been present in my life, for example in church. Louise Lansdown invited me to join the Arco project and have violin lessons online with a student from RBC in 2016. It was ultimately through Arco that I was able to switch from violin to double bass.
Being a student of the Arco project has given me many wonderful opportunities that have helped develop my playing and encouraged me to study music. In 2017, I was one of three students from MICM who travelled to Birmingham to watch the Cecil Aronowitz Viola Competition. It was the first time I had ever been on a flight and so far from home, but coming to visit RBC showed me the high standard of the string students there and inspired me to practise hard so that one day I might also be able to study at a conservatoire.
During my trip, I attended concerts given by the Royal Liverpool Philharmonic Orchestra, Birmingham Royal Ballet and the City of Birmingham Symphony Orchestra. During the CBSO concert, I was sitting by the double bass section and I felt the low resonance and warmth of the double bass sound in the orchestra. This ignited my love for the double bass, and when I returned to South Africa, I begged Louise for a double bass to be sent over so that I could start learning. To my absolute joy, a double bass was donated to the project and I had my first lesson over Zoom in April 2018. My online teacher was a student at RBC at the time, Aisling Reilly, and she taught me all about orchestral and solo repertoire on the bass, as well as telling me what her classes were like as a music student. Arco has also given me the opportunity to have lessons with Tom Martin, Tony Alcock and many other inspiring musicians.
Even though I have been studying the double bass for only three and half years, I have worked very hard and achieved many things that I am proud of. I am principal double bassist of the Johannesburg Youth Orchestra (JYO), I have played with the Johannesburg Festival Orchestra, and I am now also principal double bassist of the Cape Town Philharmonic Youth Orchestra. I also won the JYO Concerto Competition, and I would have performed the Capuzzi Double Bass Concerto with the orchestra but unfortunately the concert was cancelled because of the pandemic.
I am currently studying music at Stellenbosch University, fully supported by the Arco project, and am loving being able to be part of a community of musicians, to play in orchestras, to perform chamber music and so much more.
My dream would be to play in an orchestra professionally and to start a school of double bass in South Africa. Soweto can be a very tough place to be a young person, as there are many social problems in my community. I want to inspire young people in my community to go on to higher education and to follow their dreams by providing them with the same great opportunities that I have received myself.
This article was published in the February 2022 Théotime Langlois de Swarte issue

The Baroque violinist's career has taken off in the past year. Charlotte Gardner talks to him about his quest to popularise the works of long-lost composers. Explore all the articles in this issue . Explore all the articles in this issue

More from this issue…