Peter Martens shares how the festival is used as a vehicle for social cohesion, community interaction and multiracial reconciliation in South Africa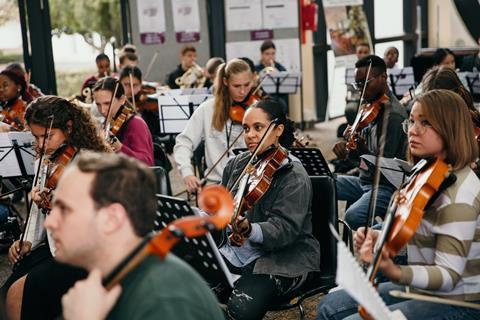 Read more student and player experiences in our Education Hub
Stellenbosch University is inextricably linked to a number of former South African presidents who held office during the Apartheid years. Furthermore, its language policy debates and accusations of racism have made international news headlines of late. But one of its flagship projects, the Stellenbosch International Chamber Music Festival (SICMF), has for the best part of two decades now, been generating positive news, with the percentage of previously disadvantaged participants having risen from 29% in 2013 to 47% in 2022. This year 83 of the 218 student participants received either partial or full scholarships thus ensuring the participation of all who qualified in terms of their musical ability and desire to engage.
Chamber music is perhaps the most desirable and enjoyable form of performance art with participants integrating personal expression with team spirit in a unique language that speaks powerfully to performers and audience alike. The SICMF uses this form of music making as a vehicle for social cohesion, community interaction and multiracial reconciliation. Each year up to 300 students receive coaching from the esteemed faculty and participate in a range of activities that include orchestral playing, chamber music concerts, lectures and public master classes.
The SICMF executive carefully constitutes the student groups so as to leverage the maximum in terms of a meaningful social and communicative experience for all concerned, so a student quintet could for example be made up of a pianist from Cape Town, a violinist from Soweto, another violinist from the UK, a viola player from Bochabela and a cellist from Johannesburg. Groups will contain participants of a similar ages and levels of playing whilst gender and ethnicity will be mixed.
At this year's opening concert there was not a dry eye in the auditorium as eight beautifully enhanced photographs printed on large banners hanging on the walls of the Endler Hall were unveiled during a stunning performance of Arvo Pärt's Siolouans Song My soul yearns after the Lord led by Daniel Rowland. These images were of SICMF musicians, office staff and patrons, all of whom had passed away in the Covid years. These included anti-Apartheid struggle icon Denis Goldberg and violinist Ivry Gitlis, but most difficult to stomach for me personally were those of my fellow cellist friends, Allan Stephenson, Marian Lewin and Alexander Buzlov. Allan was also a composer of wonderfully catchy music. Sasha was the most amazing cellist I ever had the privilege of sharing the stage with. He was only in his 30s and his death was a great shock to all of us.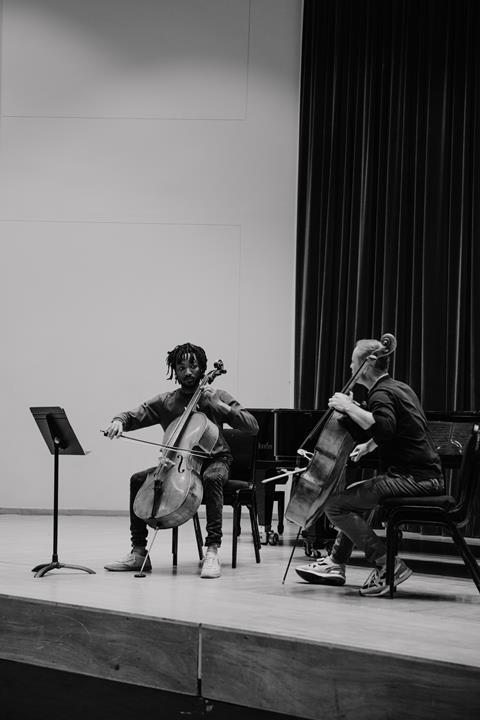 The festival kicked off on somber note, but it was a meaningful one that allowed all of us to express the reverence that we felt in having known these great people through our festival. And to quote from my opening speech earlier that evening, 'The SICMF is back! …testimony to the relief that the worst of the Covid-19 pandemic is over, to the joy that live performance can again capture the hearts and imaginations of audience and performers alike, and to the fact that despite tremendous loss, that our music making will be a catalyst to healing, continued creativity, and nourishment of the human spirit.'
The SICMF's most famous patron, Archbishop Emeritus Desmond Tutu passed away in 2021 and his photo was amongst the banners unveiled at the opening concert. On the morning following his special SICMF concert in 2013 he wrote me a personal letter: 'It was fabulous. It gives so much hope for our children. I was deeply moved as I looked at black kids from the so-called informal settlements playing those instruments. It says wow, we have such fantastic potential. What an amazing country we have it in us to become. And you helped us hold onto the dream of 1994.'
Now, in addition to the SICMF holding such a special place in the hearts and minds of students, faculty and audience, and in addition to the SICMF showcasing transformation in a completely unforced way, the SICMF has become a place where commissions that tell stories of struggle, hope and overcoming adversity are regularly heard. Following the 2016 collaboration between composer Matthijs van Dijk and Denis Goldberg, the SICMF commissioned Neo Muyanga, to compose a large chamber work for instrumental ensemble and four solo singers. The work, Makeda, an expression of Black Consciousness, was performed by singers from the UCT Opera School and an ensemble of internationally acclaimed musicians drawn from the SICMF faculty in 2018.
In 2019, in keeping with the idea of celebrating South African struggle icons, the SICMF commissioned a work celebrating the life of Johnny Clegg. It was jointly composed by Antoni Schonken and Arthur Feder and narrated by Gloria Bosman. This performance was all the more poignant given that Clegg was terminally ill at the time and passed away just a few weeks after the performance. This year the SICMF presented the world premiere of Kathleen Tagg's Please Dream: In his Words which featured powerful speeches by Desmond Tutu, recordings of which were integrated into the music.
Following the performance of Kathy's piece, the hall erupted with the kind applause that only a South African audience can offer. Audience members were shouting and ululating as they exited the hall and the groove of Ghoema music seemed to infect the audience to the extent that a group of student participants spontaneously took up their instruments and continued jiving for the audience in the foyer.
The festival ended on 10 July with tears of happiness and sadness as new friends through music said goodbye following the final performance of Sibelius' second symphony by the Festival Symphony Orchestra. We were all exhausted, but filled with satisfaction and joy, having come back like a phoenix from the ashes.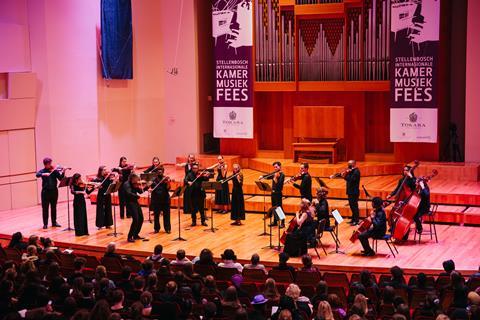 The 2023 SICMF will take place from 30 June to 9 July. Further information on the SICMF can be obtained from the festival director, Peter Martens at martensp@sun.ac.za, or from the website www.sicmf.co.za.