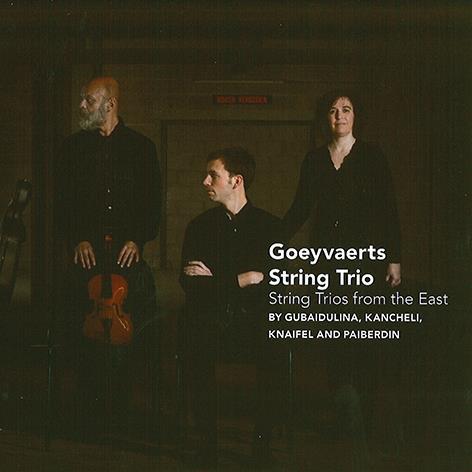 The Strad Issue: January 2012
Description: Too much control and self-regard hamper an otherwise rewarding programme
Musicians: Goeyvaerts String Trio
Composer: Gubaidulina, Paiberdin, Kancheli, Knaifel
The Belgian-based Goeyvaerts String Trio was established in 1997 to explore 20th- and 21st-century music, and its pedigree is clear on this impressive two-disc set of recent trios by composers from the former Soviet states. Nonetheless, it's strangely frustrating to listen to.
The Goeyvaerts members are clearly exceptionally skilled players: in the Gubaidulina String Trio, the precision with which they match their entries, their vibrato and their dynamics is a joy to hear. The Ligeti-like micropolyphony in the third movement is crisp and even, and the resonant, slowly evolving harmonies earlier in the piece draw broad, expansive playing from the group. But there's a sense of everything being kept under very tight control, and of the players being just a little bit too careful.
The medieval deconstructions of Oleg Paiberdin's Organum A-nn-A (2000) seem more in tune with the trio's cool, rather objective approach, as does Alexander Knaifel's enigmatic E.F. and three visiting cards of the poet (2008), which calls on them to breathe and whisper as part of the score. But the abrupt mood-changes of Kancheli's Time… and again (1998), whose styles range from angry double-stopping to luscious Romantic melodies, end up being curiously uninvolving. It's almost as if we're being asked to admire the craft of the composition and the abilities of the players, rather than simply being engaged or gripped by the performance. Recorded sound is clear, warm and generous.
David Kettle