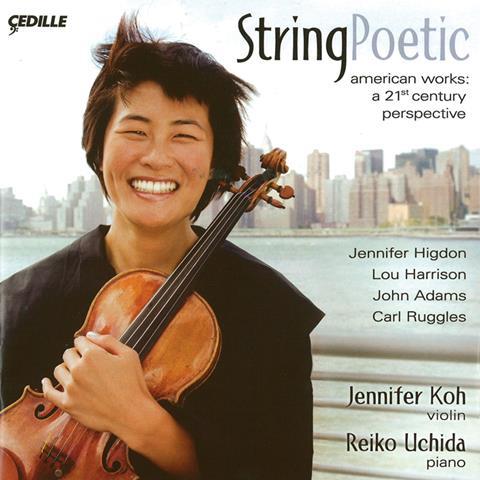 The Strad Issue: January 2009
Musicians: Jennifer Koh (violin) Reiko Uchida (piano)
Composer: Higdon, Ruggles, Harrison, Adams
This is the fifth recital CD by the young American violinist Jennifer Koh for Cedille, and it's a curiously mixed affair – very much a disc of two halves. The all-American programme sounds fresh and newly minted under Koh's immaculate technique and rounded tone, yet at times one feels that in striving for sonic perfection, Koh somewhat misses the point of the music.
It's in the disc's first two works – Carl Ruggles's rugged Mood (1918) and Jennifer Higdon's charming if lightweight String Poetic (2006) – that Koh is most successful. There's a real sense of a story being told in Higdon's five-movement suite, and Koh's immaculate phrasing and precise articulations bring a cleanness and clarity to the soaring melodies of the central movement, 'Blue Hills of Mist'. Ruggles's short piece, assembled by John Kirkpatrick from the composer's sketches, is an angular, dissonant yet powerful work that Koh treats as a late-Romantic rhapsody, bringing intense vibrato and a full-throated tone to its jagged lines.
Then suddenly things change. In Lou Harrison's Grand Duo (1988), a 30-minute work of extravagant gestures and expansive structures (the clue is in the title), Koh sounds reticent and unsure of her place, her clean, poised sound often overpowered by the pounding clusters of Reiko Uchida's piano playing (which is sometimes over-pedalled to muddying effect). One ends up wishing Koh would throw caution aside and simply let rip. She redeems herself by the end of John Adams's 1995 Road Movies, rediscovering some rhythmic bite and vitality in her playing, but even here she plays unsteadily and nervously in the syncopated semi-repetitions of the first-movement 'Relaxed Groove', which sounds anything but. Recorded sound is close, clear and crisp, but at time allows the piano to dominate.
David Kettle